Olivia And Jessika From 'MAFS' Are Still Throwing Shade At Each Other And We Are Tired
The Married At First Sight/OnlyFans girlies are fighting again, this time over a blocked list shared by Season 9's Olivia Frazer and honestly, it's time these two just bury the hatchet and give it a bone!
In a screenshot obtained by So Dramatic, Married At First Sight's Olivia appears to restart her beef with Jessika Power by revealing that the former bride was on her blocked list during an Instagram game with her followers.
View this post on Instagram

In a since-deleted reply, Jessika took to So Dramatic's comments to call out Olivia for blocking her, stating that in the past Olivia had followed and unfollowed her on Instagram.
"Who is this chick!? She went from following me to unfollowing me (maybe because I didn't follow her back) and now to apparently blocking me. What a clown," the reality star wrote. "This is the most energy I've wasted on addressing this, and it'll be the last. Clearly, Olivia has too much time in the day to be thinking of someone who she doesn't know or even care about." Ouch!
View this post on Instagram
The OnlyFans star continued to go in on Olivia in the comments, warning her that she had picked the wrong person to come for in a reply to a fan. "I even said that we weren't at war when media said we were but now…Oh, honey, wrong person to piss off."
Jessika then doubled down on her "clown" comment, posting a TikTok with a clown emoji, mouthing the words, "You come to my page, throwing shade? And you think you're better than me? Never bitch."
She also posted the same TikTok onto her Instagram Story, assumedly directed at Olivia.
But where did this whole MAFS feud start?
The girlies have been back and forth about where they stand throughout the year. Going way back, Jessika originally disapproved of Olivia's actions on the reality show, especially her outing fellow bride, Domenica Calarco, for having an OnlyFans account to the whole MAFS cast, and the nation.
In an interview with The Herald Sun, Jessika slammed Olivia's behaviour. "As women in 2022 aren't we supposed to be empowering each other? I thought it was disgusting for another woman to do that to another woman," the Big Brother VIP star said.
After Jessika's comments were made, the pair were seen together at an event. And in a video produced by The Wash, Jessika seemed nervous about her encounter with Olivia.
The beginning of the OnlyFans war
Soon after Olivia's run on MAFS, she announced that she would be joining the adult content creation website. After a few weeks of joining the subscription platform, Olivia told So Dramatic! that she had seen so much success on OnlyFans that she claimed to be making more money than Jessika on her best month.
"I won't say a figure, but I'll just say that I've already made more than Jess Power's best month," Olivia said. After that awkward comparison that no one asked for, Jess took to her Instagram Stories to call out Olivia.
"Like, are you comparing yourself because you wanna be better or are you comparing yourself because you look up to me?" Jess said. "I don't really give a shit, I don't really have an opinion. I think, like who cares. And there's no competition, there's no war. There can't be competition if there's no competition, and there is no war when one side doesn't really care." YIKES!
In an Instagram Story, Olivia slammed the Daily Mail for labelling their squabble a "war" and then dragged So Dramatic! for allegedly "twisting her words" during her chat about OF.
Now, bringing you back to the present day: they're now fighting over a blocked list that a fan asked Olivia for. I am tired!
Olivia has yet to respond to Jessika's comments and/or TikTok, but still, I'm strong on this stance: this feud is the most unnecessary one in MAFS history.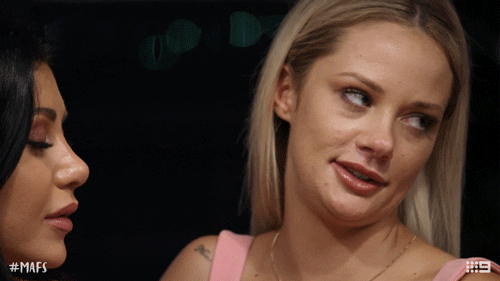 Fun times!