An Exhaustive Timeline Of Kim Cattrall's Feud With Sarah Jessica Parker & 'Sex And The City'
Whether you love or hate the new Sex and the City revival And Just Like That, it's impossible to watch without feeling the immense absence of Kim Cattrall's iconic Samantha Jones.
After all, Cattrall made up one quarter of the fab four and while Sarah Jessica Parker, Kristin Davis, and Cynthia Nixon have reprised their roles, the show is still lacking some of its magic. This isn't to say that Samantha hasn't remained a constant presence throughout the season — in fact, she's been mentioned in almost every episode.
So why didn't the actress sign on for the season? Anyone with even a microscopic knowledge of celebrity culture will know that Cattrall and Parker have been feuding for over a decade. And in the new series, art imitates life as Samantha's absence is explained due to her having an argument with Carrie (Parker) and relocating to London.
London, apparently. #AndJustLikeThat pic.twitter.com/c4bwfFthBy

— audrey hope apologist 🔮🌙 (@moodygroovybaby) December 9, 2021
Carrie relays the story of their friendship breakup to Miranda in the first episode, citing her firing Samantha as the catalyst for their feud. Samantha is mentioned again at Big's funeral, then once more after Carrie texts Samantha about mentioning her name on her podcast. Carrie ends the exchange by telling Samantha "I miss you", but gets left on read. In another episode, Carrie tells Miranda after an argument: "We already lost Samantha. I'm not losing anyone else".
It's impossible to watch And Just Like That without feeling that the show is constantly subtweeting Kim over her decision to depart the long-running series. To understand how we got to this point, it's important to go all the way back to the start. Beginning with a salary dispute during the original series and ending in Cattrall publicly calling out Parker on national TV and social media, buckle up because this is one of the messiest celebrity feuds in history.
Here is an exhaustive timeline of Kim Cattrall's feud with Sarah Jessica Parker and Sex and the City:
---
1998-2004: Sex and the City (the series)
Long before the movies, rumours of a feud between Parker and Cattrall plagued the HBO series. The reason for their rivalry was rumoured to be rooted in Cattrall wanting to be paid the same as Parker, as when the series began in 1998 both actresses had higher profiles than Nixon and Davis.
The sixth and final season of SATC aired in 2003 and the following year Cattrall said that part of the reason the show ended was because of the lack of pay parity between the leads. "I felt after six years it was time for all of us to participate in the financial windfall of Sex and the City," she told Friday Night With Jonathan Ross in 2004. "When they didn't seem keen on that, I thought it was time to move on."
Along with being the series' lead actress, Parker was also the executive producer from the second season onwards, which explains part of the salary discrepancy. In 2018, executive producer Michael Patrick King confirmed on the Origins podcast that Cattrall wanted to be paid equal to Parker, but said this never would have happened.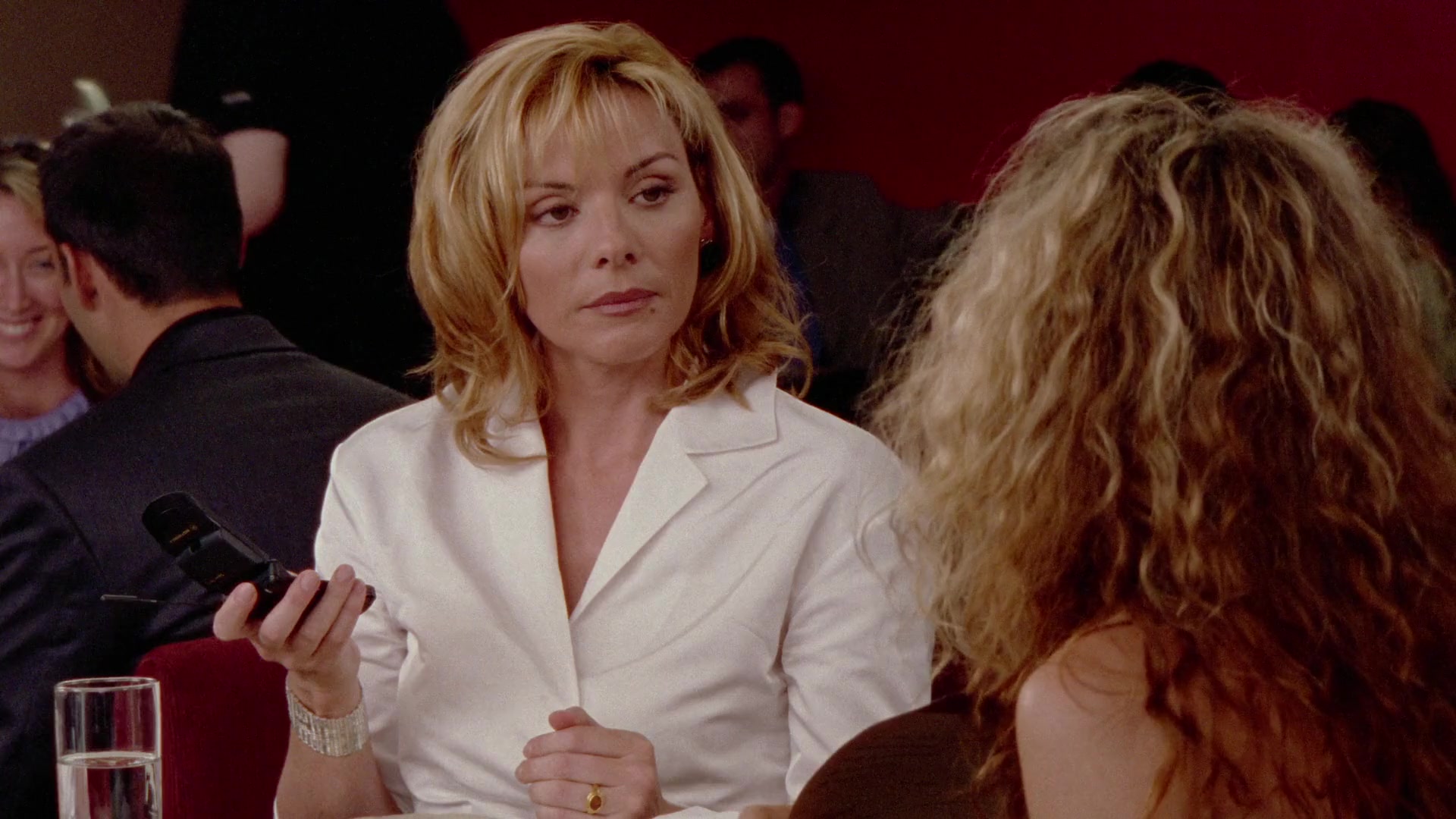 "I guess for Kim it didn't matter how much the raise became if there was never parity, but there was never going to be parity," he said. "The show doesn't exist if Sarah Jessica wasn't the blonde star of the show, that's number one."
He also shed some light on the dynamic on set between the four women as the series continued over the years. "As the show progressed, the characters, everybody grew, it became a family," he said. "Kristin, Cynthia, and Sarah Jessica became one group, and Kim never joined mentally. Kristin and Cynthia went in the light, they became those two ladies, they understood it was Sarah Jessica's name, look at the posters."
A New York Post article relayed a story from the Atlantic City episode where Parker had rented a house with Nixon and Davis, but had excluded Cattrall. However, HBO have since clarified that Kim stayed in a different house as she wanted to reside with her husband. The NY Post article also claimed that according to an on-set source by the end of the series, no one was speaking to Kim.
This is all still speculation, however, a photo from 2004 Emmys did little to contradict the rumours: Parker, Nixon, and Davis all sat together while Cattrall sat on her own. Cattrall addressed the awkward award's show moment in 2008, telling The Telegraph: "Are we the best of friends? No. We're professional actresses. We have our own separate lives".
2008: Sex and the City (the movie)
Despite the drama surrounding the series, Cattrall signed on for the movie. However, that doesn't mean it all ran smoothly. The Telegraph reported that tensions were at breaking point between Kim and the other three women. Kim had requested a salary increase and this lead to even more friction, with the publication claiming that Parker, Davis, and Nixon "wouldn't even sit with [Cattrall] at mealtimes".
Kristin has addressed this claim, labelling it as a misunderstanding. "There was a very strange piece in one of the tabloids that said Kim and I would eat in the restaurant of our hotel and not sit together, which cracks me up," she told Marie Claire in 2010. "When I would get back from the set, I would go to the gym and get room service. I'm not a put-on-decent-clothes-and-go-to-the-hotel-restaurant person, but Kim is. The story was that we don't like each other. Ridiculous!"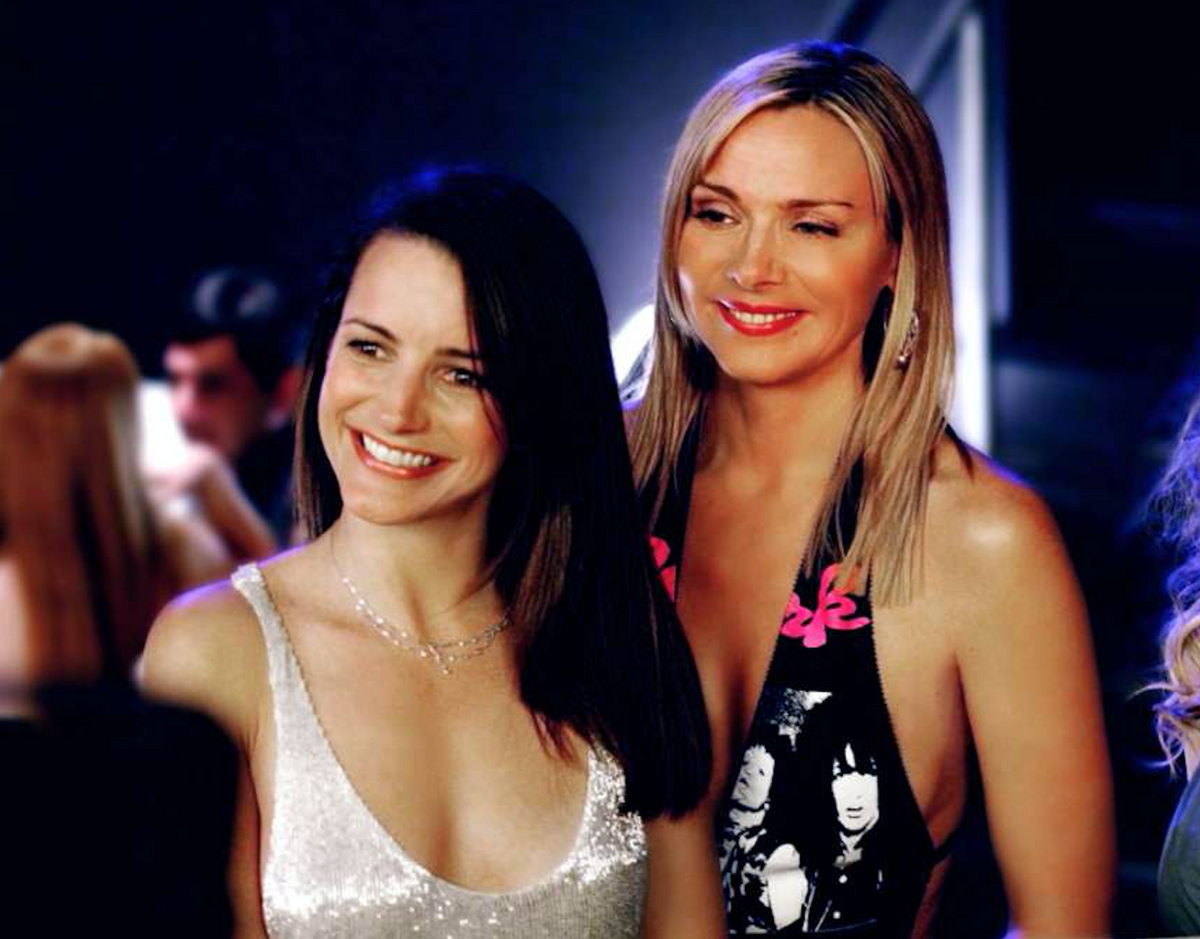 As promo for the film got started, Parker attempted to quash any rumours of a feud over salary, telling The Telegraph, "Honestly, we are all friends and I wish I saw more of Kim. She mentioned money and no one should vilify her for it. People made a decision that we had vilified her."
2009: Sex and the City 2 (the sequel)
As filming was underway for the second movie, New York Magazine reported that Parker and Cattrall were no longer speaking, which was "making everyone on the set of the new Sex and the City movie uncomfortable".
Then, like clockwork, both Parker and Cattrall started giving interviews to deny there was any feud. SJP told Elle in 2009,"I don't think anybody wants to believe that I love Kim. I adore her. I wouldn't have done the movie without her. Didn't and wouldn't".
In 2010, Kim echoed Sarah's sentiments in an interview with the Daily Mail. "I think Sarah was right: People don't want to believe that we get on. They have too much invested in the idea of two strong, successful women fighting with each other. It makes for juicy gossip and copy," she said.
"The truth of us being friends and getting along and happily doing our jobs together is nowhere near as newsworthy. I think Sarah is fantastic. She is a born leader and she guides the crew and the cast in such a strong but gentle way. She and I are sick of this. It's exhausting talking about it, and a real bore."
Kim also said in an interview with Marie Claire ahead of Sex and the City 2 premiere that "the press has to put women in these boxes, rather than show them as the movie portrays them: working together and being powerful. Things just have to be explosive for no other reason than for people's imaginations."
It's worth noting that in the same interview, Parker did admit that sometimes "feelings get hurt" on set.
2010-2016: Sex and the City 3 (the failed third film)
Despite being savaged by critics, Sex and the City 2 proved to be a huge blockbuster, which led to rumours that a third film would be a given. In the years following the second movie, SJP continued to maintain that her and Kim remained friendly. In a 2016 interview with Time Magazine, Sarah suggested that any accusations of friction between the women on the SATC set were rooted in sexism.
"It was always so heartbreaking to me that there was this narrative about Kim and myself because it just didn't reflect anything that happened on that set. They just didn't do it to the Sopranos guys. It was so strange to me and upsetting. I posted something on Kim's birthday and people were like, 'Oh my God, I didn't know you liked her!' What? We were all at liberty to walk away at any time! But nobody asked those questions of shows with men. Isn't that interesting?"
This is true, Sarah did post about Kim's birthday in an Instagram post that's awkwardly still up to this day.
2017: Sex and the City 3 is officially cancelled
In 2017, rumours began to circulate that the third SATC movie was cancelled due to Cattrall's alleged outrageous demands. The Daily Mail claimed that Warner Bros. had axed the film as Kim had "demanded they produce other movies she had in development or she wouldn't sign up for the project". The gossip site reported that the production company had decided not to go ahead as "a movie with only three of the four main characters" wouldn't be fair to fans.
Kim denied the report on Twitter, claiming that she never agreed to do the movie in the first place.
Woke 2 a @MailOnline 💩storm! The only 'DEMAND' I ever made was that I didn't want to do a 3rd film….& that was back in 2016

— Kim Cattrall (@KimCattrall) September 29, 2017
But the plot thickens. The late Willie Garson (AKA Stanford Blatch) retweeted the Daily Mail story and in a since-deleted tweet he suggested that what was reported about Kim being responsible for the third film's cancellation was correct.
After rumours were swirling about the fate of Sex and the City 3, Sarah confirmed that the third film wasn't happening. "It's over. We're not doing it," she told Extra TV. "I'm disappointed. We had this beautiful, funny, heartbreaking, joyful, very relatable script and story. It's not just disappointing that we don't get to tell the story and have that experience, but I think more so for that audience that has been so vocal about wanting another movie."
Kristin also expressed her disappointment that the movie wouldn't go ahead, writing on Instagram "It is true that we are not going to be able to make a 3rd film," she began. "I wish that we could have made the final chapter, on our own terms, to complete the stories of our characters. It is deeply frustrating not to able to share that chapter."
While neither Sarah or Kristin specifically blamed Kim for the film's cancellation, their statements only fuelled the fire among fans.
Kim then launched the clapback to end all clapbacks, doing a TV interview with Piers Morgan where she rejected claims she was "demanding or a diva" and claimed she had told production in December 2016 that she would not sign on for the film. "The answer was always no," she told the British host.
Regarding the nasty rumours doing the rounds, Kim did not mince her words. "This is really where I take to task the people from Sex and the City, and specifically Sarah Jessica Parker, is that I think she could have been nicer. I really think she could have been nicer. I don't know what her issue is." She went on to say that herself and her co-stars have "never been friends," and described her relationship with the SATC cast as "toxic".
In the interview, Kim said she didn't plan on ever reprising her role as Samantha Jones again. "I played it past the finish line and then some and I loved it and another actress should play it," she said. "Maybe they could make it an African-American Samantha Jones or a Hispanic Samantha Jones, or bring in another character."
Willie then reentered the ring, posting a rather sassy and since-deleted tweet obviously directed at Kim's statements in the interview.
Following Kim's TV appearance, a seething article about SATC's "mean girls culture" was published on the New York Post, which painted a disturbing picture and made several allegations of bullying. The story claimed that during the early seasons of SATC, Parker, Nixon, and Davis formed a tight clique which left "Cattrall out in the cold".
Kim included a link to the story in a future Instagram post, suggesting its contents are something she agrees with or endorses.
2018-2019: Kim Cattrall doubles down
In 2018, Parker appeared on Watch What Happens Live, where she was asked how she felt about Cattrall telling Morgan they were "never friends".
"Heartbroken," replied Parker. "The whole week… I was really, I found it very upsetting because that's not the way I recall our experience."
A few days later, after Parker wrote condolences on Kim's Instagram after her 55-year-old brother was found dead, Kim unleashed again. "You are not my family. You are not my friend. So I'm writing to tell you one last time to stop exploiting our tragedy in order to restore your 'nice girl' persona," Kim wrote on Instagram.
Later in 2018, Sarah seemingly address Kim's harsh words. "We had a connection with an audience, and we had a connection with the city and with this crew, and we got to tell these crazy stories with each other. So I don't want to mess with that," Parker told People. "There was no fight; it was completely fabricated because I actually never responded. And I won't, because she needed to say what she needed to say, and that is her privilege."
That same month Jason Lewis, who played Cattrall's on-screen boyfriend Smith, didn't have anything positive to say about working with Cattrall, telling KTLA that he's 'Team Sarah' all the way. "Listen, I have to say that Sarah was always just so lovely and such a consummate professional and I think that people should remember their graciousness and the things that have been given to them. And I'm going to stop there. Because I've got nothing good to say."
In another interview in 2018, Sarah addressed Kim's comments again. "I'd just like to remind everybody that there is no catfight," she told Vulture. "I have never uttered an unkind, unsupportive, unfriendly word, so I would love to redefine it. I also want to remind everybody that there were four women on the set and I spent equal time with all of them, so this was not a set with two women who didn't get along.
"I've always held Kim's work in high regard and always appreciative of her contributions. If she chooses not to do the third movie, there's not a lot I can do to change her mind and we must respect it. That's the only thing I've ever said about it, you know?"
In 2019, Kim addressed SATC for the final time telling The Guardian that she's played Samantha for long enough. "I went past the finish line playing Samantha Jones because I loved Sex and the City. It was a blessing in so many ways, but after the second movie I'd had enough. I couldn't understand why they wouldn't just replace me with another actress instead of wasting time bullying. No means no."
In the same interview, Kim also dropped her most iconic line yet: "I don't want to be in a situation for even an hour where I'm not enjoying myself." Preach!
2021: And Just Like That reboot
In January 2021, Parker, Nixon, and Davis confirmed that a new 10-episode revival was coming — but Cattrall would not be involved. When someone commented on the announcement, remarking that Parker and Cattrall didn't like one another, SJP replied on Instagram "I don't dislike her. I've never said that. Never would. Samantha isn't part of this story. But she will always be part of us. No matter where we are or what we do."
Regarding Samantha's absence from the new series, HBO's chief content officer Casey Bloys told TV Line that "just as in real life, people come into your life, people leave," he said. "They're trying to tell an honest story about being a woman in her 50s in New York. So it should all feel somewhat organic, and the friends that you have when you're 30, you may not have when you're 50."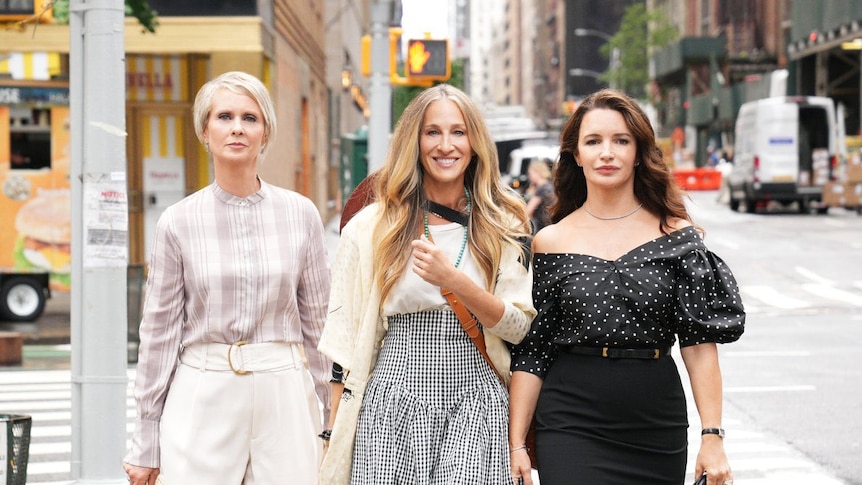 Ahead of the season premiere, Kristin gave an interview with the Today show and revealed that the new episodes will address Samantha. "We love Samantha. Samantha is never not going to be a part in some way, right? So there is respect for Samantha. It's part of the story. We would never disrespect Samantha."
However, when the season premiered many fans considered the way Samantha's absence was explained to be disrespectful to the character's legacy. In one of the season's first scenes, Carrie revealed that Samantha stopped talking to her former bestie after Carrie fired her as her publicist. One line was particularly savage, as Carrie told Miranda, "I thought I was more to her than an ATM".
Kim hasn't addressed the SATC reboot directly but did like a handful of tweets about And Just Like That, including the below tweet praising the actress for not signing on to the new series.
@KimCattrall I am such a fan. With the #SATC reboot happening, they keep bringing you up. I applaud you for making choices that are right for you. You are not required to do anything you don't want to do or that won't make you happy. Looking forward to you on #QAF happy holidays!

— Open Your Eyes (@getmebadges) December 6, 2021
After the 10-episode reboot aired its last episode, Parker gave an interview saying she would not support Cattrall returning for a potential Season 2. When asked if she would be okay with her former costar coming back, she said "I don't think I would, because I think there's just too much public history of feelings on her part that she's shared," SJP told Variety.
In the same interview, she added that Cattrall was not involved in the series revival in any capacity. "We didn't go to Kim for this, you know," Parker said. "After we didn't do the movie and the studio couldn't meet what she wanted to do, we have to hear her and listen to her and what was important to her. It didn't fit into what was important or needed for us."
And just like that, could this be the end of an almost 20 year feud? If history has taught us anything, we doubt it!
–
This article have been updated since it was originally published.