The Truth About MAFS: Former Contestants Speak Out About Being Manipulated By Producers
Allegations of network producers and editors manipulating footage has been a constant criticism of reality TV, but on this year's season of Married at First Sight, viewers — and the series' contestants — might finally be at the end of their ropes.
We all know reality TV is often far from reality — scenes are exaggerated, edited, and cut up for dramatic effect. But the 2020 season of Married at First Sight has seen an obvious shift when it comes to the trajectory of the contestants' storylines, with the majority of the drama happening off-screen. Instead, what viewers have been left with is the show's producers and editing team trying to fill in the gaps of what happened, except this season it hasn't been as successful. MAFS fans have been left with stories that simply don't make sense because we've only been told a limited portion of the information and it's obvious.
Problems first arose during the 2020 season of MAFS with Poppy Jennings: a quirky contestant who was used heavily when promoting the series. Who could forget Poppy's iconic line about her past relationship where she stated her ex-partner had a tragic accident and ''fell into his coworkers vagina'? But when it came to the actual show, we saw a vastly different Poppy to the hilarious and vivacious woman filmed before her wedding.
Omg im dying 😂 I thought her husband died but no he "tripped, fell and got stuck into another vagina" LMFAO!!!

— Anthea (@RavinEmerald) February 3, 2020
Poppy's storyline didn't add up. The series positioned her and new "husband" Luke as an ideal match, yet we rarely saw them interact. Instead, we persistently heard her complain about missing her kids on almost every episode. Then there was her early exit — another mix of scenes that didn't quite form a coherent timeline. We were shown Poppy upset with Luke, but it was never explained why. Then suddenly overnight everything changed: Poppy left the experiment and production had to notify Luke that his time on the show was over.
That was the end of their apparent 'love story' but it turns out it was only the beginning of the drama to follow. After her exit on the show, Poppy dropped a bombshell in a now-deleted Facebook post stating the real reason she left the series wasn't actually aired. Whether we will ever hear the true sequence of events seems unlikely but Poppy is reportedly seeking legal action against the network.
This isn't the only case of a MAFS contestant disputing their given narrative. Carly Bowyer hosts dating advice podcast Finding A Unicorn, and was a contestant on the 2018 season. While originally matched with ice cream millionaire Justin Fischer, they seemingly ended their relationship amicably before Carly went on to date fellow cast member Troy Delmege.
On a recent episode of her podcast, Carly said she sympathised with Poppy as she also believes her edit barely scratched the surface of what actually happened. "I know exactly what happened with Poppy because I actually had the exact same thing happen to me on MAFS," she divulged on her podcast.
"So for me, what was actually shown on TV was that I left because Justin was just being non-committal and not opening up to me. I had to pretend that was why I was leaving but I actually left for a different reason and I've never been able to speak about that and basically had a gag order that I wasn't allowed to speak."
We spoke to Carly and asked her to elaborate on what actually prompted her exit and it's pretty wild. "It was one night and everyone had little parties in their rooms and Justin was downstairs in another couple's room," she told us. "I ran into the room and he [Justin] was in there with this other woman. Justin was naked behind the bed and he was hiding. I cracked it, it was a massive debacle."
From this point, Carly said she was told she couldn't bring up the altercation on camera. "Basically, from there the producers just swarmed on me. They were like 'Carly, this isn't going to make sense to your storyline. We can't talk about this. Justin is denying it, saying that you saw the wrong thing. Everybody is denying it so we can't make this a storyline.'
"They basically gave me no choice and told me I had to pretend I was leaving for another reason because they couldn't make that narrative work," she said, adding, "I think they had their villains already and it didn't make sense to their storyline."
Carly said she felt frustrated watching how the producers had edited her ending and rewrote what actually transpired.
"It made absolutely no sense. It came out of nowhere, it was so stupid. The last thing we saw was Justin having to go lingerie shopping for me and then he bought himself some mesh top, which didn't actually happen, He actually came back and had bought me some stuff but they didn't show that. It was that very night that it all went down and I walked in on him," she said.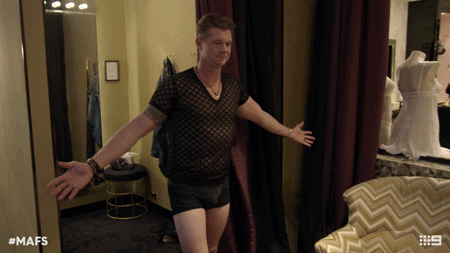 "So they had no footage between the lingerie shop and whatever reason for me leaving that they made up. So they made out like I was upset that he wasn't taking it seriously, and that's what the mesh top was [symbolising]. Which could be something to push someone over the edge to be honest," Carly laughed.
[We reached out to Justin in regard to Carly's claims but he didn't get back to us before this story was published.]
Another contestant who has less than positive feelings towards his MAFS experience is Sean Thomsen, another 2018 contestant who wrote a book about his time on the show. He was paired with Blair Rachael during his season (he later dated Tracey Jewel) and the couple were quickly labelled boring by the public. From what we saw, they parted ways after Sean voted 'Leave' and then exited the experiment before Blair's homestay. Sean told us that isn't actually what happened.
"The executive producer just said to me before a commitment ceremony, 'We want you off the show, we're not going to use any film we got of you, it's all a waste of time, so you might as well just write 'Leave' because we're not going to use any of it','" Sean revealed. "The production have full control over the narrative of each character and story so you don't really have a say."
This account echoes something 2020 contestant Chris Nicholls said earlier this season in an interview, with the father of two claiming that despite the series showing him and his partner Vanessa Romito splitting, they were actually both "forced to leave MAFS".
Unlike most MAFS love stories, Sarah Roza's actually had a happy ending — albeit short-lived. Sarah was matched with Telv Williams and the two became the 2018 season's fairytale romance, with the nation smitten with the adorable couple. They ended the experiment together, renewing their vows but parted ways shortly after.
"We were painted as Australia's sweethearts. It was like 'the battler and the beauty', I think someone may have referred to it as," Sarah said. "All I can say is that if they filmed a thousand hours of us, I reckon about 0.1% was shown and then it was stitched together. It was very different for us behind the scenes, it was different to what people saw on TV."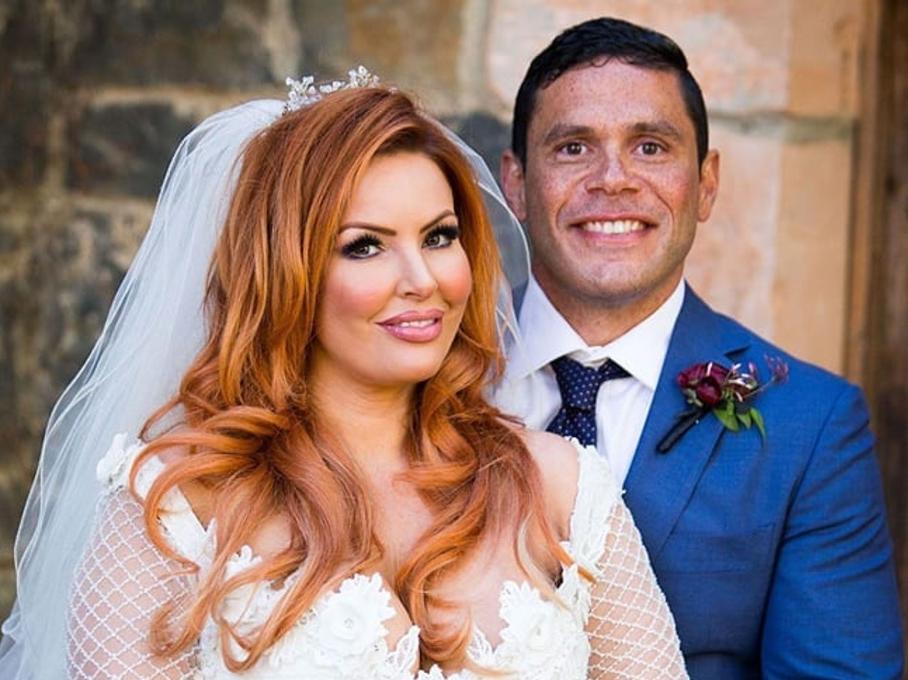 Away from the camera, Sarah and Telv's picture-perfect relationship was a totally different story. "I could throw a dart in the street and it could land on any random person and it would be 1000% a better match than I was with Telv," she joked.
Sarah told us that they tried to split several times during filming. "So many times we wanted to leave, probably about five times. Like legitimately bags were packed and they were like 'You can't go!'," Sarah said. "They told us: you're Australia's sweethearts, you're the golden couple and we need you."
While Sarah and Telv received what people in the industry would call a 'heroes edit', others aren't so lucky. Previous contestants told us how much they feared getting an unflattering edit from producers and becoming series' villains, leaving them vulnerable to becoming targets for online trolls.
"They told me they could make me the most hated woman in Australia if they wanted to," Carly told us. "It was really awful and they turned nasty. It was like they got what they wanted out of you from filming and then they just went to nasty tactics afterwards."
Carly said she was bombarded with calls from producers as her series aired, who tried to ensure she wouldn't speak about the show publicly or reveal why she actually left the series. Carly told us that given her experience, Poppy probably received the same amount of pressure from production that she did. "I can only imagine, they [producers] would have been on the phone to her constantly, like they were to me, saying 'You can't tell the truth!' to hide what actually happened."
MAFS' working conditions have been a constant cause of complaint from past and current contestants. Last year's star Ines Basic recently revealed the series gave her PTSD. Controversial contestant on this year's season, David Cannon, stated in an interview posted online by Get Real Entertainment that "prisoners are treated better than the cast on Married At First Sight".
The mental health and welfare of reality TV contestants is an issue that has long been overlooked, but we seem to be approaching a tipping point. In the past two years, three people who worked on Love Island UK have taken their own lives after suffering online bullying, including the recent tragic passing of the show's host Caroline Flack.
While reality TV is about entertainment, each show is based around real people: people who have real lives and families beyond the characters a series seeks to create. At Punkee we are well aware that we play a role in how people are represented on MAFS by often perpetuating that portrayal. However, we can only judge what is presented to us.
I beg everyone, as you watch this show, to view it as fiction – because that's what it is. you wouldn't hate on an actor for playing a villain in a movie, so why hate on these people? their words have been edited and manipulated to fit the shows chosen narrative #MAFS #MAFSAU pic.twitter.com/nf9kICZ2s5

— KJ (@fearIessIou) March 10, 2020
#mafs isn't edited. Not one bit. pic.twitter.com/w6xnc5CLhS

— Mike Christian (@mrmikechristian) March 16, 2020
[We contacted Channel Nine regarding the ex-MAFS contestants' claims but didn't hear back before this story was published.]
Sarah said she understood the strict rules in place by the network. "Ultimately, they need to protect the franchise, it's worth a lot of money to the network. They do a great job at presenting a TV show and people need to remember that it is entertainment, even though it's called reality TV."
Sean didn't mince his words. "It's not reality TV, it's not reality TV at all," he said. "It's all just bullshit, it's manipulated to how they want the story to fit. They should either get actors or they should cancel the show. It's pretty damaging."
The 2020 cast has been the most vocal so far about unrealistic edits, ignoring any contractual obligations in order to express their version of the truth. Josh Pihlak went rogue earlier this season, taking back his Instagram account from MAFS producers to slam his edited scenes as an "absolute crock of shit". In a recent interview, Connie Crayden had another dig at producers, claiming she was forced to write stay when in actual fact she only considered TV husband Jonethen Musulin as a friend.
The 2020 season has copped constant flack, with viewers on Twitter voicing their disappointment with the forced drama, comparing it to last year's absolute rollercoaster season which made for extremely watchable reality TV.
The only good thing about this season of MAFS is the constant flashbacks to last season. #MAFS #MAFSAU

— Megan Pustetto (@meganpustetto) March 3, 2020
Anyone else reckons this season of #MAFSAU has been a disappointment?! pic.twitter.com/PIUVDmAFrW

— ramoncura (@ramonz_c) March 22, 2020
mafs twitter judging the absolute letdown of this season #mafsau #mafs pic.twitter.com/yyy09W1RBi

— Nearly Beloved Podcast (@nearly_beloved) March 16, 2020
With so much of the action happening off-screen and behind-the-scenes gossip being leaked out by the contestants, the show's portrayal of the story arcs that have unfolded have become entirely unbelievable – yet certain contestants like Poppy Jennings come out wearing the blame.
"I think anyone going into a reality show, particularly MAFS, has to be aware that they can manipulate storylines," Carly said.
"I was aware of that, I knew they could do that. That's not really what I care about. It's more the bullying and the lack of duty of care. It was that side of it that was really shit. I think moving forward they need to do the show differently."