MAFS' Dom Breaks Down While Reflecting On Intense Couples Retreat In New Poddy Episode
Domenica Calarco and Ella Ding are back with another episode of their Sit With Us podcast, and things get super emotional as the girls get candid about that couples retreat incident that had the Married At First Sight fans shook.
Dom and Ella, who met on Season 9 of Married At First Sight, have launched their new podcast Sit With Us , which covers all things MAFS, pop culture, reality TV, and relationships. Most recently, they've dropped their second episode titled 'Boiling Point' where Dom reflected on the couples retreat scene that ended with a broken wine glass and a shift in the group dynamic.
View this post on Instagram
In the podcast, the besties deep-dived into the girls' night on the retreat where Dom went head to head with Carolina Santos after Dom had chimed in on her treatment of reality TV hubby, Dion Giannarelli, the previous night.
The argument then turned south after Olivia Frazer and Dom began to argue about the volume of Dom's voice and attitude. After the fight completely boiled over, Dom smashed a wine glass out of anger and things turned ugly.
Dom reflected on the night, using the podcast as an opportunity to explain her behaviour. She described how she felt when the girls laughed at Carolina's sarcastic joke and when Olivia began to yell in her face. Dom also owned up to her actions.
"It was a jab at me, it was a stab to make me feel like shit. It was intended to hurt me…I accept that breaking a glass was never the right way to go about it. NEVER. The second I did it I was like, 'Domenica, that is so wrong'. When I watch it back, I don't try to make excuses for their behaviour" she said.
Dom also spoke about how she watched the show with her mother and how it emotionally impacted her family. "I watched it with my mum in my house and we just sat on the couch and cried together," Dom said "I regret smashing the glass with every being in me… not because of what happened afterwards, but it's not who I am."
View this post on Instagram
Dom and Ella then went on to talk about Olivia's behaviour after the incident, alleging that Olivia had made false accusations about the incident in previous interviews."I also want to make it very clear that in an interview that Olivia said that class got into Carolina's mouth and Kate's eye, which is the biggest load of bullshit. I don't understand the lies… I'm sick of Olivia not being held accountable for [her] lies," Dom said.
View this post on Instagram
They also talked about how straight after the incident, Olivia was telling other cast mates that Dom was waving the glass in her face. Ella said that she was happy to stick up for Dom as a witness, saying "it was really her word and if I wasn't there, it would've just been her word."
Dom also accused Olivia of wanting "alienate" her from the group as she talked about the incident while Dom wasn't present to defend herself or her actions.
"We know it didn't happen, the country knows it didn't happen, and that's what matters," the girls said.
As the show aired, Domenica had to shut down rumours of 'glassing', telling Yahoo! Lifestyle "That is just a complete fabrication, a lie, and it's ridiculous. I'm going to just categorically say that that is completely and utterly false."
Domenica then went on to talk about her apology and how the whole situation gave her "nervous diarrhoea". No thanks!! Dom also talked about how Olivia said that her apology was scripted and she was forced to give one to the girls by producers on the show.
"I have heard Olivia say in a podcast that she thought that I didn't want to do an apology, or that the producers forced me to have an apology to the group and to her, which is completely false. The apology was the first thing I wanted to do," Dom said, "It's really disgusting and hurtful…that apology was from my fucking core."
View this post on Instagram
Ella also says that despite all of the drama that did happen on the show, the cast mates both Dom and Ella still hang out with do not speak about MAFS anymore and are looking forward to the future.
Similarly to the first episode of Sit With Us, it was quite gloomy. The girls reflected on some pretty heavy topics, especially things to do with past trauma, and emotional and mental health. It definitely gives us viewers an insight into what truly happens on the show and we can't help but feel bad for them! They ended the poddy by saying that they are "grateful for the positives" of the show.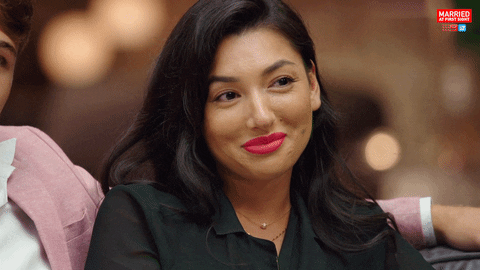 The next episode is about to get extra spicy as they tackle the topic of the OnlyFans pic and what was so scandalous about Dom's account. Stay tuned…