The New Bachy Girls Have Dished On What The Ultimate No-Gos Are In The Bachelor Mansion
It's time! It's finally here! No, not any extra vaccines for Australia, don't be ludicrous – we're talking about the fact the new season of The Bachelor is finally upon us.
As pilot Jimmy Nicholson gets ready for a turbulent journey to find love (yeah, OK, sorry), at least 20-something girls will be hoping they'll be the ones to capture his heart.
The 2020 seasons of The Bachelor and The Bachelorette were a little lacklustre – and the Zoom aspect of the show didn't help anything – so it looks like the show is doing its best to bring back the magical love story we've all been hoping for.
But, as with any good season of The Bachelor, we're sure there'll be drama along the way. From sneaky kisses to cocktail party fights, as feelings develop so will the tension in the house.
So is it OK to interrupt someone at the cocktail party? Does making an entrance dressed as a dolphin really capture Bachy's eye? Who better to answer our questions than the 2021 contestants of The Bachelor themselves.
We quizzed the new Bachy girls on what they deemed hot or not when it came to typical Bachelor protocol.
We spoke to Lauren, Lily, Holly, Tahnee, Tatum, Sierah, Maddy, Annabelle, Ashleigh, Stephanie, Carlie, Belinda and Hannah for this survey.
Move over Grant Denyer… the survey says…
Interrupting someone's chat at the cocktail party:
No surprises here – out of the 13 Bachy women we chatted to, all 13 said it was totally OK to interrupt someone at the cocktail party in order to nab some special alone time with Jimmy. But, look, they were realistic about it.
"I'll say it's hot, unless it was my conversation they were interrupting, then it's definitely not. Wait your turn, babe!" Tatum said. "It's not hot, but it has to be done," Stephanie said.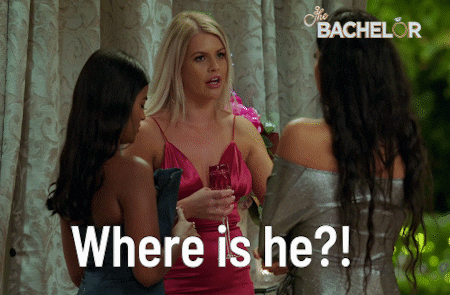 "Before heading into the mansion, I would've said that's a big fat no… but you learn pretty quickly in the mansion just how little time you have to spend with Bachie and you need to make the most of every opportunity to see if that connection is there," Holly elaborated.
Kissing the Bachy at the cocktail party:
Opinions between the ladies remained VERY divided for the good old sneaky cocktail party pash. Matt Agnew, are you listening?
"Get it, girl," Lauren said, while Stephanie was in agreeance. "Nothing wrong with a cheeky cocktail smooch!" she said. It was a firm no from Sierah however, who said, "I prefer my Bachelor without pash rash caused by a competitor, thanks!" Holly also chimed in calling a kiss at the cocktail party "disrespectful" while Tatum said it was "tacky" unless the Bachelor was the one to make the move. Hmmm.
Majority wins on this one – out of the 13 girls surveyed, only three deemed kissing at the cocktail party OK.
Wearing a novelty costume on the first red carpet arrival:
It was a no from Lauren and Lily, while Tatum and Belinda both stated it was a hot move, with confidence being the sex appeal factor here. Carlie wasn't for it, saying if it shows off the person's personality, power to them but that she'd "rather look like myself and show the Bachelor who I am, and not hide behind a costume."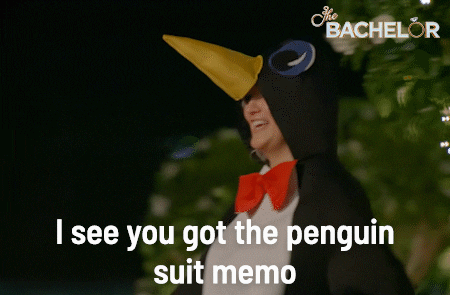 It was pretty 50-50 down the line for this question, so the jury is out. If you feel more comfortable meeting your potential dream man in feathers, sequins, or a Chucky mask, you do you boo.
Singing a song or reading a poem to the Bachy:
God, I miss the days of people performing insane songs or poems for the Bachelor. Bring back Cass's diary, am I right? Bring back her vision board! Bring back Mac singing "youuuOOOOh, meeeeee" on loop to Sophie Monk!
Anyway.
Sierah was quick to slam this idea. "I quiver at the thought of someone singing to me. I seriously couldn't think of anything that would make me feel more uncomfortable," she said. Annabelle was ALL for it. "If you combine the two and make it a rap with fun lyrics then HOT. If he then comes back and turns it into a rap battle that's hotter. Slinging a rhyme ain't a crime," she said.
We'll give Tahnee the last word on this one.
"We're on set of The Bachelor not Australia's Got Talent and trust me no one around the mansion has pipes like Beyoncé so let's just not," she said.
Feeding each other on a first date:
"Absolutely not," Stephanie said. "Here comes the aeroplane, Jimmy!" (Honestly, I would pay money to watch that scene though, someone make it happen.)
"Why not get intimate and flirty and feed each other a strawberry or two?" Carlie counteracted.
Well, Carlie, I mean have you seen this…
Sorry to unlock such trauma, let's get back to the survey results.
Belinda's enthusiasm for feeding each other was rampant. "INSANELY HOT!" she said. "Feed me anywhere, any day, any time. I have several food fantasies!"
Starting to worry that the girls didn't have enough food in the house.
–
The Bachelor premieres tonight, 7:30pm on Channel 10.
Love discussing all things reality TV in a fun and friendly way? It's time to join our Facebook group then!