Just Hear Me Out: I Wouldn't Even Be Mad If Angie Did A Honey Badger
In 2018 something bad happened. We invested two months of our lives to watch Nick 'Honey Badger' Cummins go on the hunt for everlasting love, only for him to pull a first for The Bachelor franchise. He took his final two to the holiday destination and swiftly dumped them both.
Australia was mad. While some did argue that he did the right thing by not leading the women on, others argued he had never been into this journey from the very start, thus wasting all of our time. It did often come across that the Honey Badger wasn't so much looking to drop the L-bomb, but perhaps was just horny as all hell. And people were also mad that with the high calibre of women he had to pick from on his season, he literally just picked no one.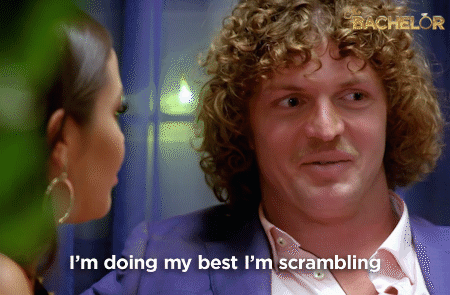 While this year's Bachy Matt Agnew was constantly faced with questions about choosing someone, the Bachelorettes have successfully avoided the scrutiny due to the fact no woman in all our seasons of The Bachelorette has ever gone home solo.
But I'm here to say, Angie Kent should pull a Honey Badger. I was extremely mad about Nick not making a final decision last year, so I get that this could be a wildly hypocritical viewpoint.
I can't believe I've watched this show for 8 weeks to just listen to The Bachelor imply he's not ready to settle down…?? #TheBachelorAU pic.twitter.com/62B7N8WwdS

— Tahlia Pritchard (@Tahls) October 4, 2018
But I am also of the belief he was disingenuous from the start and he could've found love with one of the beautiful women on his series if he had in fact ever really tried.
I'm sorry, but people as beautiful and smart as runner-up Brittany don't come along that often. Someone like Cass would've worshipped the ground he walked on. And Sophie was obviously wildly into him, even if he never deserved her affection.
Now this is where Angie comes in. I believe she should do a Badger and pick no one in the end. But not for the drama… just because I think she's been left with a top three that aren't worthy of her time and energy.
Here are the reasons why Angie should just choose herself in the season finale of The Bachelorette:
Sorry, I never thought I'd say this but Angie should just pull a Honey Badger #BacheloretteAU

— Tahlia Pritchard (@Tahls) November 7, 2019
1. Her frontrunners have both lied to her
Lying by omission is still lying. Carlin wasn't honest about his love of acting, and Ryan wasn't honest about the fact he had previously applied for another season of The Bachelorette. Hiding something then having it come out after is an ugly look, plus it's disrespectful to Angie who has been very open about trust being the most important thing in a relationship.
2. Timm is sweet but would be a lot of work, as Angie's dad pointed out
Timm seems to be a beautiful soul deep down, but after his hometown visits with his BFF Jackson not ready to let his party boy go, and with Angie's dad not getting a good vibe on him and thinking he'd pester Angie "at the dinner table", there are some questions about whether Timm is the committed partner Angie would be after.
Plus, Angie has reiterated many times that family is the most important thing to her, so if Timm makes it to the top two to meet Angie's family and botches it, then things don't look good for him.
3. Ryan slid into her DMs for a whole year and couldn't even ask her out before she became Bachelorette
Even though it was seen as a romantic gesture that he then applied for the show to win Angie over that way, I'm not as convinced. If anything, how does a guy slide into your DMs for a WHOLE DAMN YEAR and still miss a chance to shoot his shot? Seems suss.
4. Carlin's very dramatic every time they argue about something
Carlin may have opened up to Angie about his past marriage while forgoing talking about his fledgling acting career, but every time tension has risen between the two, Carlin is very quick to hit the dramatics. Call it acting, but shaking his rose around to Jamie or basically telling Angie it's over at hometowns before walking off crying isn't a cute look.
5. And the real frontrunner left weeks ago
And that's the real tea.