Timm From 'Bachelor In Paradise' On Ghosting Britt & His New Relationship
Timm Hanly brought a chaotic energy to Bachelor In Paradise, but it wasn't always in a good way.
Known as the pot-stirrer at the Bula Banquets, Timm's saving grace appeared to be his romantic connection with Britt Hockley. The two departed paradise before the final commitment ceremony, but the romance didn't last long when they arrived back in Australia.
Timm didn't have much time in between leaving The Bachelorette mansion as runner-up and filming Bachelor In Paradise, and it's a decision he says he now regrets, citing on the show that the environment was getting to him.
We spoke to Britt Hockley about Timm ghosting her and now Timm has also shared his side of the story.
On what happened with Britt:
"I'm stoked that it [his journey on the show] is over. I'm in a relationship now and it's hard to sit back and watch it when I've moved on. Britt's saying I ghosted her which is pretty fair to be honest. I had no intentions to ghost, but I just had a bit going on in my own life that I was dealing with. I moved shows so fast, and I got back and the finale had just finished airing, and everyone knew who I was, and the paps were following me, and Britt and I couldn't even get a coffee together… it was too much, hey."
On where he stands with Britt now:
"I came back to Melbourne and she's in Sydney and it was… either pull the trigger and move, or… I don't know. If I had my time again I would have gone about things differently. I'm in a relationship now and I'm trying to respect that relationship so that's the only reason I haven't spoken to Britt."
On the rumours he's had a long-term girlfriend (while filming the shows):
"[My girlfriend] will verify we weren't together, who would let that happen?! She hates this show. She hates that I went on the shows. We broke up, I wasn't with her for like a year before The Bachelorette. We've rekindled in the last couple of months. I realised I still loved her. I had so many girls throwing themselves at me and I didn't want any of that. I wasn't interested in doing that kind of stuff. I'm happy in this relationship. I think timing is a big thing and I wasn't ready for it back then. And now I've gone through all these love show processes and learned a lot about myself and what I want from love. I realised I have it there already."
On his pot-stirring ways during Bachelor In Paradise: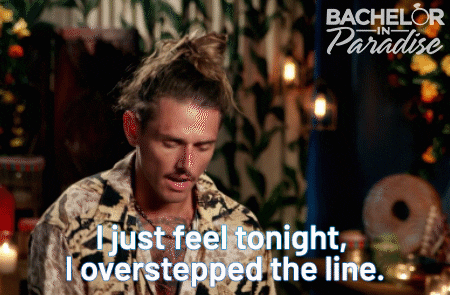 "I did speak out of line and I was wrong at times, I addressed that. Nothing I did was done intentionally to make anyone feel bad. It's very heated in there, but what you don't see is us apologising in the mornings and stuff like that. Yeah, these big dramas happen, but at the end of the day we're all still in there together, so you make up pretty quickly."
On what Bachelor In Paradise has taught him:
"I've watched it, it was hard, it was confronting seeing myself be an absolute goose. I live and learn. I look back and I can see things from other people's perspectives now. In there I was so.. I had tunnel vision on my perspective, and I was so loyal to my mate but now I can see things from other people's points of view."
On his bromances with Jamie and Ciarran, and his final message for Bachy fans:
"I speak to Jamie every day, he's my boy, I love him to bits. Ciarran is copping heaps from every angle. Everyone thinks they have the right to be nasty because someone's done something wrong. He knows he's wrong. He can watch it back, I watched my bits back and had a long, hard look in the mirror and he'll be doing the same. He doesn't need the bullying. The world is hard enough, people are struggling already without people putting in their two cents about a reality show."