We Ranked Every Bachy Couple From Adorable To Ultimate Relationship Goals
In a world full of dating app mishaps and shows based on marrying complete strangers, somehow meeting your future partner on a TV show while dating numerous other people at the same time nearly seems romantic.
The Bachelor and The Bachelorette Australia has been bringing love stories to our screens for numerous years now, and from July to November each year we eagerly follow the journey of one man and one woman desperate to find love.
Minus some exceptions of course.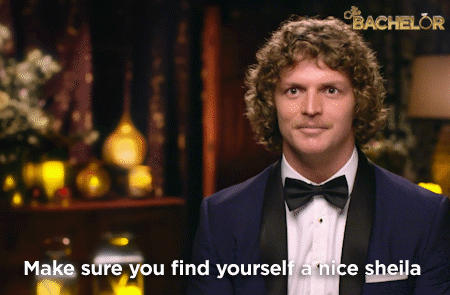 Rumours are swirling that this year's Bachy, Locklan Gilbert, has been given a talking to by producers for maybe not taking things ALL that seriously, so it got us thinking back to the good old days. You know, the seasons where the contestants were in it for true love and are still happy to this very day.
It's no easy feat to rank the Bachy couples because the ones who have stayed together are all great in their own ways. So really, we can only rank them from which couples are cute and wholesome, to which relationships we truly envy the most – you know, the type of relationship that can thaw out any cold, frozen heart.
Without further ado, we've ranked the Bachy couples from cute to 'we desperately want that':
6. Ali Oetjen and Taite Radley
Ali and Taite have proved all their haters wrong and are still seemingly very happy after meeting on Ali's season of The Bachelorette in 2018. There was some viewer fatigue around Ali at the time due to her appearance on Bachelor In Paradise earlier that year, as well as the fact her season premiered the week after Honey Badger's fiasco of a finale.
However, we remain firm in our beliefs that Ali was actually a great Bachelorette, the timing of her season was just a bit off. As a couple, she and Taite have slipped under the radar which is definitely not a bad thing – it's just we aren't cooing over their couple photos as much as perhaps some of the more relatable Bachy couples. Also, the whole "king and queen" captions don't help. Or comments like this:
But each to their own.
5. Angie Kent and Carlin Sterritt
It was the final match that made us all raise an eyebrow a little bit, after an absolutely chaotic season of The Bachelorette. But Angie and Carlin didn't pay any attention to the people doubting them and their social media presence over the past six months or so has proved why they're such a good match.
Carlin's goofy side didn't come out on TV all that often, but these two always seem to be having fun together.
They're nice! They're wholesome! They love to dance! Overall, we're happy that they're happy.
4. Tim Robards and Anna Heinrich
The OGs of the Bachy franchise have had a relationship that seems straight out of a fairytale – from the 2013 season finale, to their stunning Italian wedding, and they recently just announced they're expecting their first baby.
They're the kind of couple that's borderline too perfect. Like, you go to their social media pages to remember how gorgeous, glamorous people live while you're eating a whole pizza to yourself and swiping through Tinder. They're not necessarily relatable, but they seem deeply in love and that's beautiful, and we have no doubt they'll make parenthood look like a walk in the park.
3. Georgia Love and Lee Elliot
There's pretty much no disputing that Georgia Love's season of The Bachelorette has probably been the best one so far. The guys were fun and provided entertainment without being too crazy (take notes, Jamie) and Georgia got her fairytale ending with Lee.
It wasn't an easy time for Georgia either as she was dealing with her mother's death, but Lee was a rock throughout the process as they emerged as a solid, united couple to the Australian public. They announced their engagement last year, and they always just look like they're having the best time together. I'd be jealous if I didn't love their love.
2. Matty J and Laura Byrne
Matty J and Laura Byrne's love story has been a bloody delight to watch. They are the perfect mix of being an enviably good looking couple while also remaining extremely down to earth. Whether it's releasing parody videos or showing off their adorable daughter Marlie-Mae to the world, their Instagram captions are always on point and they just bring so much joy.
They're tied equal first in my heart, tbh.
1. Sam and Snezana Wood
It's hard to look past Sam and Snezana Wood as the ultimate Bachy power couple. The Golden Gods. The realest of deals. The couple we all look at and aspire to be. How are they so perfect? How are they so kind? How have they made such ridiculously adorable kids? Why do they make me want to exercise on a daily basis?
They actually make me believe love is real, and that my friends is no easy feat. Absolute perfection.