Latest 'Bachy' Evictee Cass Says She's "Not An Abbie"
Cass was sent home on last night's episode of The Bachelor, and we never really got a chance to get to know her.
What we do remember from her time on the show is her very tepid chemistry with Dr. Matt during the Romeo and Juliet photo shoot, the moment where after declaring herself the most fun she was booted from Wednesday's group date as the least fun (ouch), and her edit on last night's show where she repeats the word 'business' over and over.
"At the end of the day, it's really important to have goals," Cass said. And she's right.
But her goals to move her jewellery business to Melbourne and then LA and have kids by 42, weren't so in line with Dr. Matt's very tight marriage-kids-in-five-years timeline. So she was sent on her way.
Punkee spoke to Cass about not being desperate for Dr. Matt's attention and about how Dr. Matt himself might not be up for marriage and kids as soon as we think.
Here's what Cass had to say about her time on The Bachelor:
On how she didn't really have the time to build chemistry with Dr. Matt
"I tend to go for as long as the guy is honest, kind – those are my key points with what I'm looking for. Matt was very charismatic and very charming, so I definitely did vibe him when I first met him.
"I don't think I was given enough time to actually [connect with Matt]. For me, I don't fall in love at first sight. I need to kind of build a connection. I need time with someone, and time was not of the essence on this show, so it didn't work out for us [laughs]."
On how Dr. Matt might not be looking to get married in the next five years
"[On last night's ep, Dr. Matt's best friend Kate and I] really chatted about what has brought me to this point, and I expressed to Kate how I was so excited to start the next chapter of my life and share my life with someone and have them share their life with me, and get married, have kids. It was really funny because it kind of confused me on the day, but Kate said to me, 'Oh, Matt, I don't think wants to get married until his late 30s,' and I was like, what?
"Because I'm a couple of years older than Matt, I was like, 'Yeah, I don't mind having kids at 40, 42, for me, there's no hard and fast rules. But then that was what they put in there, that I wanted to have kids at 40, 42. I was like, 'Oh my God!' [laughs]."
On the tension between Sogand and Abbie on last night's group date
"Obviously Sogand was chatting to me about what was going down and what she'd said to Kate and whatnot. I was happy to listen to her and we had a little chat about it, she voiced her opinions. It was okay, I didn't involve myself in drama. If people wanted me to be like a mediator or a soundboard for them, I would be – it was no issue with me."
On her last 'business'-related convo with Dr. Matt
"That night [the producers] even asked me in a voxy, they said, 'Who do you think is going home?' and I said, 'It's either me, Rachael or Sogand.' And it was me! [laughs]. So I definitely had a feeling.
"I think [I knew from] a conversation I had with him before the rose ceremony. The conversation was a bit off in the way he was approaching the convo. He was talking and instigating a conversation about my business a lot and I wasn't giving a lot of it back. I was just like, 'Mmm, I see where this is heading.'"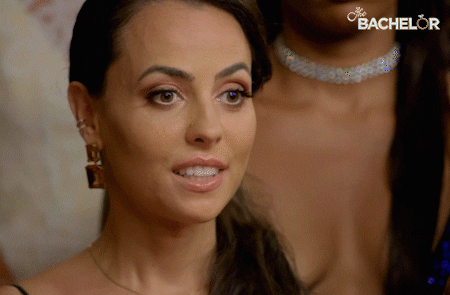 On being the only woman not to interrupt another woman's convo with the Bachelor
"At the cocktail parties I was the only girl to not interrupt another girl to chat to him. So I actually waited for Matt's time, when he would come and ask to have a chat. Because I just think, look, if he's attracted to you, if he thinks there could be something there, he's gonna come up to you at the end of the day and want to chat or get to know you. Having been [one of] 28 women in the house, I was happy to sit back, let everyone have their moment to shine, and then I thought, well, if he's keen to chat to me he'll come and chat to me. Which he did at cocktail parties, which was nice."
On her tepid Romeo and Juliet photo shoot with Dr. Matt
"He definitely made me feel special that day. I think quite a few of the girls were jealous that I got that extra time with him. Who wouldn't want to be Juliet at the end of the day?
"On the day, I heard things that [the other women] were yelling out. I'm not an Abbie. I'm not desperate to get a guy's attention or to try and kiss a guy on first meeting him or whatnot – that's not my style at all. So, [I] let her have it. Girls, they can talk all they like at the end of the day, it really didn't phase me."
On going on The Bachelor as a life experience
"[I went on The Bachelor] to find love. I look at a lot of experiences like a way to learn, grow, meet some amazing people, hopefully meet the love of your life. Like anything in life, I do take everything with a pinch of salt – I go with the flow. It was an amazing, unique experience, so I've got no regrets. I would do it all again."
On who she hopes will win The Bachelor
"I would say I'm rooting for Elly, Chelsie and Emma… I think those girls are beautiful and I hope that one of them takes it out, I really do."