Here's All The Retro 'Bachelor' Photo Shoot Pics In One Place For Peak Nostalgia
The official pics from the annual The Bachelor photo shoot ep have arrived, featuring Dr. Matt Agnew looking handsome and smouldering either at some lucky contender or directly at the camera.
The photo shoot was meant to be 'famous romance' themed, but ended up a weird fairy tale hybrid: half-Shakespeare, half-Brothers Grimm. Literally all those stories have a grisly ending. Hopefully that's not the case for Bachy – I cannot cope with another disappointing finale.
So there's Antony and Cleopatra, featuring Vakoo as Cleopatra and Abbie as a concubine (saucy); Prince Charming and Cinderella, featuring Emma as Cinderella, and Sogand and Mary as her ugly stepsisters (rude!); Romeo and Juliet, with Cassandra as Juliet; and The Prince and Snow White, featuring Isabelle (miss you), Helena as the Evil Queen, and Nichole and Rachael as nondescript dwarves (hi-ho, hi-ho).
To celebrate the reveal of the official shots, we went digging for the pics from past seasons of The Bachelor.
Did you know: every winner of The Bachelor has taken part in the photo shoot episode! Sorry Elly and Chelsie.
Season Six:
I cannot for the life of me figure out what the theme of this is. But how good is it to see Vanessa Sunshine smizing again.
Googled it: it's meant to be themed around Honey Badger's 'passions', which were apparently fire?, rock'n'roll ('80s only), yoga and education.
NB: Brittany is not in this shoot, but Sophie is. The other two members of the final four, Cass and Brooke, are also in these shots, all three of them playing the love interest role. Interesting.
Season Five:
Matty J just got an '80s shoot, featuring prom and leather and cheerleaders and that iconic shot of Jen as a lifeguard.
Note that Laura is in these shots, although doesn't play a pivotal role. It looks like runner-up Elise did not get to go along to this date, but #3 Tara and #4 Florence did, albeit not in the sexiest positions. Folks, a pattern is emerging.
Season Four:
Richie Strahan's photo shoot was '50s-themed, because a) decades are an easy theme, and b) any excuse to put the Bachelor in leather is a good one.
Here, Alex Nation, our winner, gets the one-on-one shoot. Little did they know that they'd go on to share a disgusting chocolate bath and have a very important and actually quite moving post-breakup chat on Bachelor in Paradise.
She is the only person from the final four – Nikki, Olena, Rachael ("My! Bachelor!") – at the photo shoot.
Season Three:
The season three photo shoot was maybe movie-themed, with women dressing up as Bond girls, characters from The Great Gatsby and Dirty Dancing, and one woman doing that pottery scene from Ghost. Sam Wood was also there, sometimes in a suit.
Snez was in the photo shoot episode, as was eventual #4, and now-media personality, Heather.
2015 was a long time ago so this is the best we could do re: pics. Doesn't look like Snez is the one getting too up close and personal with Sam Wood here.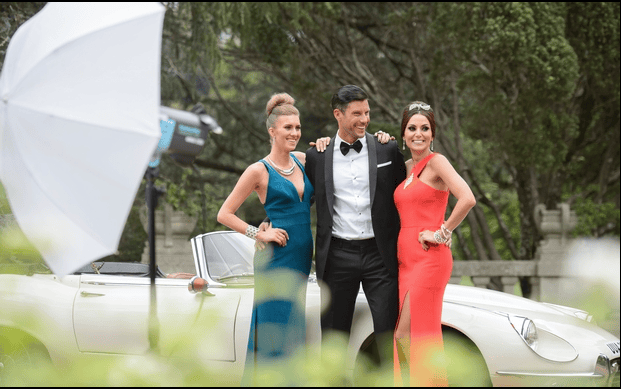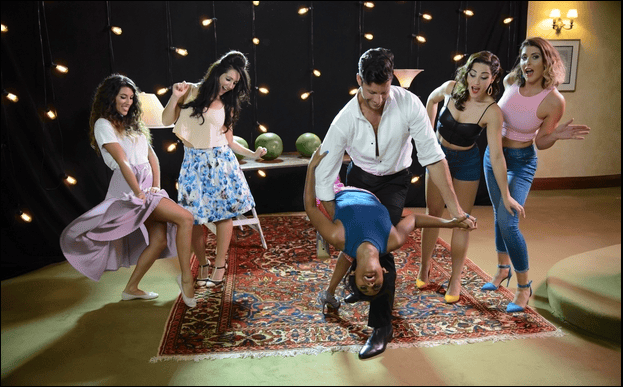 Season Two:
The season two photo shoot was bridal-themed, which to me explains so much about what ended up happening to Blake Garvey and Sam Frost.
I don't remember these people – but someone is talking in this video about being married by Mickey Mouse and that is wild.
Frost was in the photo shoot ep, but from what material we could find from this ancient date, it does look like Louise was there too – you remember her, #3, and the woman he wound up with for 18 months after he proposed to Frost in the finale. Neither woman was the 'bride' in their shoot.
Season One:
The photo shoot episode that launched a thousand six photo shoot episodes, saw Tim Robards and all four of his finalists – from Bachelorette Ali Oetjen to runner-up Rochelle to #4 Danielle (??) – and eight other women dress up 'period style'.
Retro, it works! I think it means flappers and also 19th-century wenches? Look at how intimate he gets with Danielle – real Abbie areas here.
As we go on, we remember, all the times we had together.
Let's finish this off with pics of Dr. Matt on his own. You could superimpose yourself into them!