'Australian Survivor: All Stars' Is The Best Season Of Aussie Reality TV Ever
After weeks of nonstop action, blindsides, and spectacular game play, I'm calling it: this year's Australian Survivor: All Stars could be the greatest season of Aussie reality TV of all time.
This year's series was up against some tough competition, airing at the same time as national phenomenon Married at First Sight, but has achieved record-breaking ratings — and for good reason. It is simply some of the most thrilling reality TV that we've ever seen in this country.
Every season of Australian Survivor so far has ranged from good (season three) to great (season two and four), but not every castaway was made for TV, with the majority long forgotten. The magic of All Stars is that it brought together every single fave worth watching.
The results were a perfect season of reality TV. I even ended up not totally despising Zach, which tbh is a massive feat in itself.
Here are some of the reasons Australian Survivor: All Stars was one of the best Aussie reality seasons ever:
#1. The banter was on point
Unlike previous seasons, these contestants were no strangers to each other or, more importantly, host JLP and they would roast him at any given opportunity. Every challenge was a chance to make fun of JLP's commentary and no one held back. Hilarious.
Shonee wasting no time calling JLP out 😅 #SurvivorAU pic.twitter.com/v9lLdquhKY

— Australian Survivor (@Survivor_AU) March 10, 2020
#2. Shonee was the realest bitch who ever lived
While every season needs a challenge beast or analytical mind, we also need to be entertained and that's where Shonee came in and saved us all. She is honestly the coolest contestant ever and her hilarious narration brought pure joy to the series.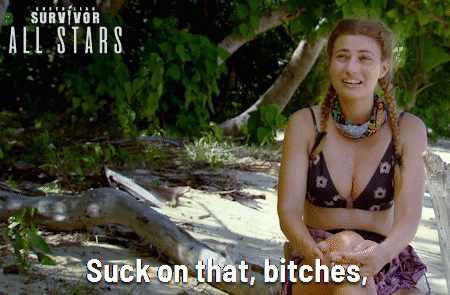 #3. Brooke and Locky's love story was adorable
Let's forget that Locky is now the Bachelor and potentially smashed Brooke's heart into a million jagged pieces for a minute. For those few fleeting weeks, they were cute as hell. I still can't believe the two most attractive people in Australia found each other. What are the chances?
Kids, find yourself someone who looks at you the way Brooke looks at Locky#SurvivorAU pic.twitter.com/uwi5g7Wa0A

— James Mathison (@jamesmathison) March 3, 2020
#4. Nick's elimination made us feel all the emotions
Nick should have made it to the jury. There, I said it. It was criminal that Nick got sent home so early when he brought so much to the game as the series' OG villain. The fact that Nick could have been saved by Harry only rubbed salt in the wound, leaving fans devastated.
Can you imagine a world where Harry gave Nick the advantage? #SurvivorAU pic.twitter.com/BRm2TIG9vc

— Ben-Survivor Fan Account (@SurvivorfanBen) March 2, 2020
#5. Phoebe got her redemption
Like Nick, Phoebe left too soon but at least she got the chance to prove why she was a motherfunkin' All Star in the first place. From dodging eliminations to winning fire challenges, Phoebe showed everyone why she is the game's original underdog who shouldn't be underestimated.
Phoebe is a legend!!!! SHES STRONG AMAZING AND A POWERFUL PLAYER. IM SO SAD SHES GONE SHE CAME BACK AND WAS A CHALLENGE BEAST. #SurvivorAU #AustralianSurvivor pic.twitter.com/21d8XFkcZl

— jake (@ItsMeJakeJ) February 26, 2020
#6. The Dirty Rascals were friendship goals
Something magical happened when the powers of Harry, Nick, and Shonee combined and the Dirty Rascals were forged. The hilarious three always had each other backs and kept things real. It physically pains me that they didn't get to reunite after merge. The injustice.
These little rascals caused a whole lot of mischief 😅 #SurvivorAU All Stars | 7.30 Monday-Wednesday on 10 pic.twitter.com/GRh4qN1P8K

— Australian Survivor (@Survivor_AU) March 8, 2020
#7. Brooke got her revenge on Flick
It was Australian Survivor's first and most legendary rivalry. Brook and Flick were BFFs until Brook was savagely blindsided by Flick who shifted her affections to a new alliance with El on the 2016 season. Four years later, Brook got her sweet revenge proving that aside from still being an absolute challenge beast, she remained extremely petty and I think that's beautiful.
It was four years in the making… but Brooke FINALLY got her revenge on Flick 🙌 #SurvivorAU pic.twitter.com/WPEyUGvkzn

— Australian Survivor (@Survivor_AU) March 2, 2020
#8. Moana became the Goddaughter no one saw coming
Honestly, who could have seen the ascension of Moana? Her gameplay this season should not be overlooked. She went from being sent home ill on her original season, to becoming Mat 'The Godfather' Roger's protege, and then surpassing him to become the tribe's low-key leader. David is shaking. What a boss.
I'm probably in the hugest minority of all time in thinking that Moana is definitely the best player in the game. She's worked her ass off the whole time, been a silent assassin, and hasn't had the advantage of production basically handing her two idols #SurvivorAU

— Yoni (@YoniGluck1) March 16, 2020
A blindside without a trace. Everything is coming up Moana 👌 #SurvivorAU pic.twitter.com/a6h3gPGlyx

— Australian Survivor (@Survivor_AU) March 16, 2020
#9. The tribal councils have never been so hectic
This season's tribal councils were wild, largely because no one was shy and everyone brought their A-game. Among the mind-games, desperate pitches, and arguments, almost every episode's climax was event television. It was so good, I guess we can let slide all the times the word "blindside" was inaccurately used. (For the love of god, Nick wasn't blindsided!!)
**Survivor producers meeting**
Producer 1: so let's just do a normal tribal tonight
Producer 2: how about….. 2 out tonight

JLP: how about….. fire#survivorAU @Survivor_AU

— rarji (@rarjimichael) February 18, 2020
Everyone in tribal right now… #SurvivorAU pic.twitter.com/om1uXmht3H

— Natalie Amor (@natalieamor) February 10, 2020
#10. David made every single episode great
David is everything and the season wouldn't have been the same without him. Sure, he's extremely easy on the eyes, but the Golden God also kept us all endlessly entertained because he didn't take himself too seriously and that's why he's just so damn loveable — and did I mention…extremely hot.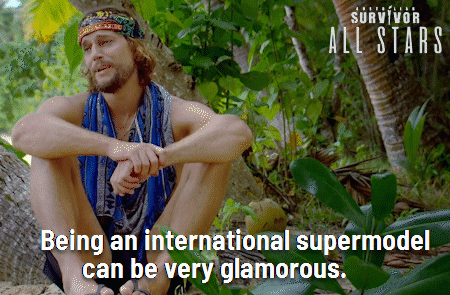 What. A. Season. Bring on the finale!
–
The grand finale of Australian Survivor: All Stars kicks off Monday at 7:30 pm on Channel 10.