The 20 Messiest Reality TV Moments Of 2019, Ranked
I don't remember a year before 2019 where reality TV in Australia has been so damn addictive.
From Married at First Sight to The Masked Singer, and The Bachelorette to Australian Survivor, this year will go down as one of the most dramatic years ever.
Things kicked off way back in January with I'm A Celebrity…Get Me Out Of Here! and haven't slowed down since. So before 2020 kicks off, we decided to rank the messiest moments that happened this year and oh boy, this is going to get hectic.
We Ranked The 20 Messiest Reality TV Moments Of 2019:
#20. Billy Didn't Have Any Splenda, Married at First Sight
Susie and Billy were one of the worst MAFS couples of all time, but their argument over Splenda was absolute TV gold. WHERE IS THE SPLENDA, BILLY?! You SPECIFICALLY said you had it? Was that all a LIE? Iconic.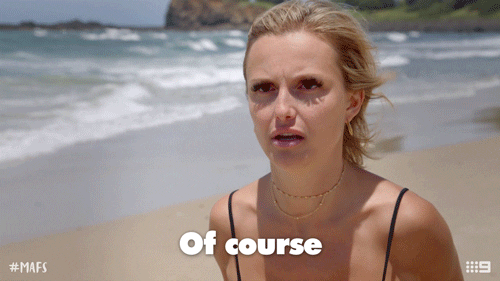 #19. Justin Was The Ultimate Drama Queen, I'm A Celebrity…Get Me Out Of Here!
While the 2019 season of I'm A Celeb was mostly smooth-sailing, there was one person who massively divided opinion: Justin Lacko. I still laugh about the time he thought he lost his chapstick and his whole world imploded.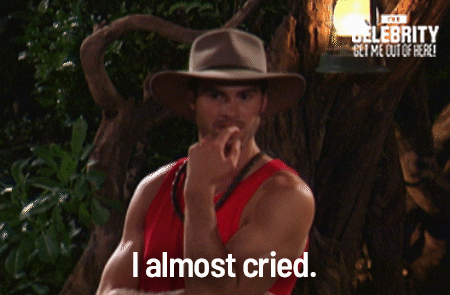 #18. Alisha Finally Dumped Jules, Bachelor In Paradise
This year's BIP struggled to recreate the drama of the first season but one contestant who made it watchable was Alisha Aitken-Radburn. We cried as she struggled with trying to get over Jules and applauded her as she finally showed him the door. What a hero.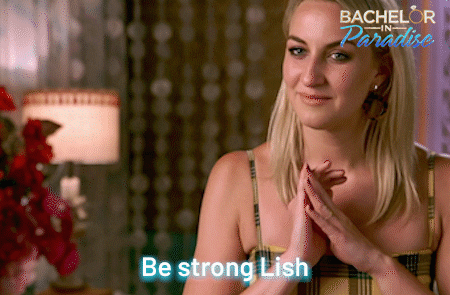 #17. Ines Was A Gift To Us All, Married at First Sight
It feels like a lifetime ago that we were being shook by every damn thing that came out of Ines' mouth. From screaming at Bronson "Shut the fuck up!", to asking him "Would you root me?", you either loved her or hated her.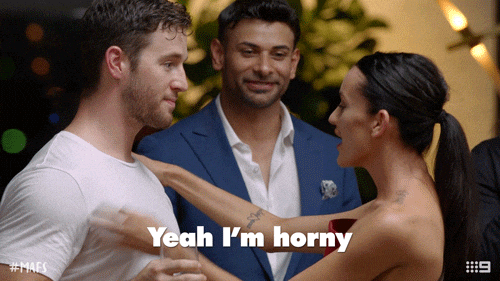 #16. Villain David Got Blindsided, Australian Survivor
I loved David so much and truly think he made the whole season. But as the weeks unfolded, his ego seemed to grow and it was some kind of poetic justice that he ended up getting blindsided while thinking he ran the whole game. (Still love you, bby!)
#15. Jamie Just Being… Jamie, The Bachelorette
From telling Angie that Carlin was a phoney to freaking out all the guys in the mansion, Jamie was the messiest bitch the series has ever seen.
#14. Adam Dumping Cartier, Love Island
This year's Love Island was pretty lacklustre but Adam and Cartier were the only couple most viewers were actually invested in. If they had stayed together they would have easily won the prize money but nope, Adam had to go and smash Cartier's heart apart.
Me watching Adam break Cartier's heart #LoveIslandAU pic.twitter.com/bFwDt9IOE1

— Ellie (@meme_kween_ell) November 4, 2019
#13. Brooke & Alex Going On A Date, Bachelor In Paradise
This relationship honestly fizzled out before anything could start, but it was the first same-sex date seen on the series and that's something to celebrate.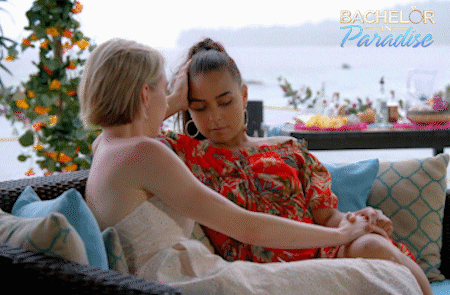 #12. The Prawn Was Finally Unmasked, The Masked Singer
There were a lot of bonkers moments on The Masked Singer, with most coming from judge Lindsay Lohan who guessed random, nonsensical celebs every damn episode.
But out of all the masks, it was the mysterious prawn that had Australians scratching their heads over his identity, with names like Liam Hemsworth and Kris Smith being thrown around. Who was it in the end? Darren McMullen.
#11. Ines & Sam Cheated On Their Partners, Married at First Sight
Escándalo! Before this year's MAFS, the only infidelity we'd seen on the show was from Davina and Dean and…I think they only ever hugged lmao. Let's just say Ines and Sam went further than that and when their affair was exposed to the rest of the contestants, TV magic was made.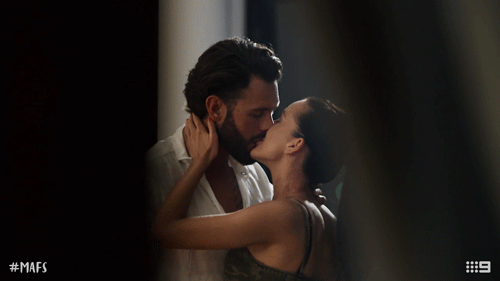 #10. Pia Eviscerating Baden At Final Tribal Council, Australian Survivor
Some might argue that Pia didn't deserve to make the finale, but there is no debating that when she faced off against Baden, she absolutely destroyed him and his argument. We stan a goddamn queen.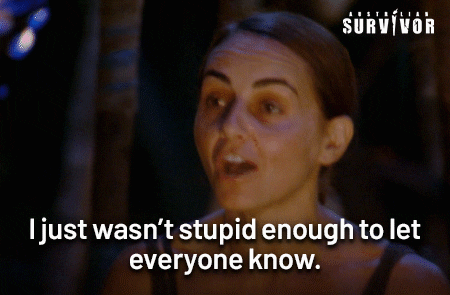 #9. Alex & Richie Faced Off, Bachelor In Paradise
Oh boy, was this argument promoted nonstop by Channel Ten. The entire second season basically hinged on this fight and sure, it was pretty hectic. But like much of BIP, nothing really eventuated from it.
#8. Angie Kicked Jess Out Of The Mansion, The Bachelorette
AMEN! Jess was one of the most offensive humans Australian TV has ever seen, so it was all the more satisfying to see him get kicked out of the mansion after Angie (and some of the boys) absolutely owned him. Good riddance.
#7. The Bachy Girls Vs Abbie, The Bachelor
The girls just couldn't get along with Abbie. First it was Monique, then Sogand and then even perfect, angel Elly. She seemed to rub a lot of people the wrong way, but we can't help but stan.
#6. Luke Being Voted Off The Island, Australian Survivor
Ahead of the grand finale, Luke was eliminated and hearts broke across the nation. Luke was probably the most beloved player in the series' history so his elimination hit hard, but a GoFundMe page for him ended up raising the same amount of money that the prize money would have awarded him.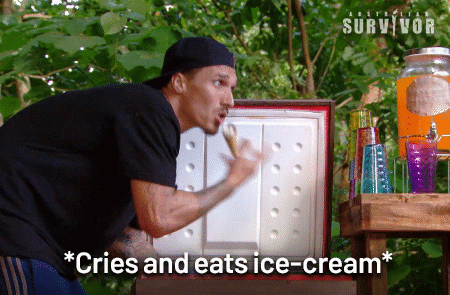 #5. Cyrell Telling Sam He Was Not "King-Ding-A-Ling", Married at First Sight
Was there a more iconic sentence that adequately summarised this year in reality TV? I don't think so. Cyrell was a force to be reckoned with and this random outburst belongs in the MAFS history books.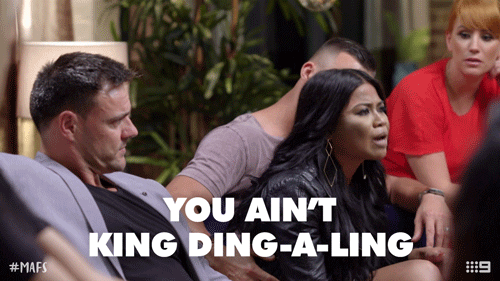 #4. Ciarran Left The Mansion, The Bachelorette
It still hurts. It's hard to recall a Bachy character as beloved (not to mention thirsted over) as Ciarran. The cheeky British lad is the perfect man and viewers were truly rooting for him, which made it all the more devastating when he had to pull out of the competition after his grandmother passed away. What could have been, hey?
#3. Jess & Dan's Relationship Being Exposed, Married at First Sight
What a mess. Jess and Dan had been secretly seeing each other and it finally all came out at one of the last commitment ceremonies. Tamara felt lied to. Mick had a meltdown, realising he'd been kept on the show for no good reason. But karma is a bitch and Jess and Dan's relationship soon imploded and they broke up live on national TV.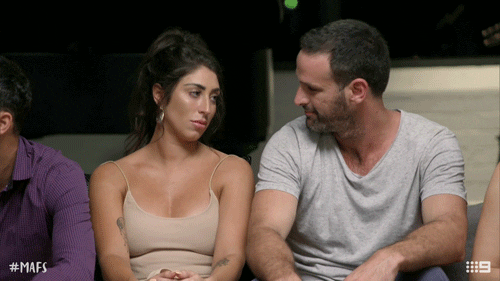 #2. The Dog C**t Saga, The Bachelor
There's nowhere but this great country of ours where someone would call the Bachelor…a dog c**t. But that's just our culture, sweetie. It all came out in a tense moment, when Abbie told Matt what she thought Monique had said, telling him, "She said that you were a 'dog c**t' and a 'disrespectful pig.'" I've honestly never felt prouder to be Australian.
#1. Martha Poured Red Wine On Cyrell, Married at First Sight
This reunion episode was the best 90-minutes of television we saw all year. It was EVERYTHING and it was jam-packed full of drama, which all culminated in Martha throwing a glass of red wine over Cyrell, after their feud had been brewing all season. What a time!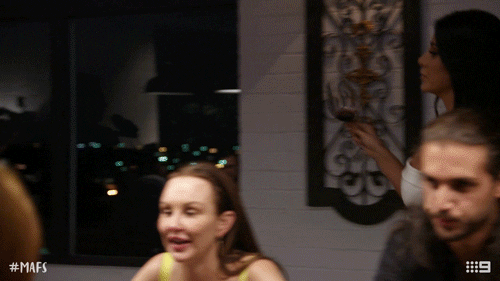 –
It sure has been one messy year in reality TV. Bring on 2020!