Will Carrie Get Back Together With Aidan On 'And Just Like That'?
Sex and the City has gone and traumatised all its viewers with a shocking death in the rebooted And Just Like That premiere.
It should go without saying at this point, but if you don't want to know what happens in the first episode then stop reading now, you psychopath!
At the end of episode one, Carrie (Sarah Jessica Parker) comes home to find her husband Mr. Big (Chris Noth) has collapsed in the shower after suffering a heart attack. Big dies and Carrie does not call 911 (despite medical advice), but we move on!
Since Big is no longer in the picture, this does leave room for Carrie to welcome a new man into her life. And following Big's sudden death, fans were quick to pivot back to Carrie's other great love: Aidan (John Corbett). Carrie dated Aidan twice during the series: the first time they split after she cheated on him with Big, before they reunited and ended up moving in together and getting engaged. Ultimately, Carrie decided she wasn't ready to get married so they parted ways again.
I liked Mr Big, but I was never a fan of him + Carrie romantically cause I was a hardcore Carrie + Aidan fan (and will be until I'm pushing up daisies) but I'm honestly so SHOCKED that they killed him off in the first ep of #AndJustLikeThat Can Aidan & Carrie marry now pls?🙏❤ pic.twitter.com/lk0ALjTSB8

— HBD VANESSA HUDGENS💗🐕‍🦺ミ☆DEXTER💉❄🎄🎁⛄☃️ (@mrsahnbohyun) December 9, 2021
Does this mean with Mr.Big dead Aidan can come back? Because I was always team Aidan #AndJustLikeThat #sexinthecity pic.twitter.com/qEHeIEPEFS

— SⓐbⓡIⓝa CⓞtⓣIⓝgⓗaⓜ 🦊 (@sabby_leigh) December 13, 2021
The last we saw of Aidan was in the godawful movie sequel Sex and the City 2, when Carrie bumped into her ex-fiancé in Abu Dhabi of all places. At the time, Carrie was married to Big and Aidan was still married to a designer named Cathy, who he shared three children with. Despite both parties being married, Carrie and Aidan flirted up a storm over dinner, and they ended up kissing. Carrie pulled away and fled. Escandalo!
Whether morally correct or not, these two have chemistry which is undeniable, so it wouldn't be surprising that if Aidan returned to the series they would at the very least hook up again. And this seems even more likely as Corbett has confirmed he will reprise his role of Aidan in And Just Like That. "I'm going to do the show," Corbett told Page Six, before elaborating that his appearance won't be a brief cameo, in fact Aidan will appear in "quite a few" episodes.
Aidan appearing in more than one episode could suggest that he and Carrie might actually try to date again. I can't think of any other reason why Aidan's character would drop by for more than just a quick appearance, like he did in the final SATC season and the second film.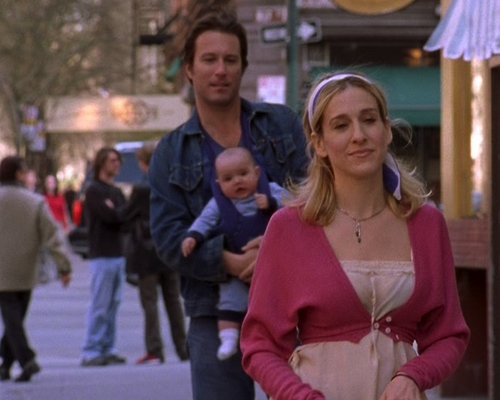 However, something that has thrown a spanner in the works is that Corbett was not actually spotted filming any And Just Like That scenes. Was the actor simply pranking us all with his confirmation he would return to the series?! Let us pray that production successfully kept the actor's appearance under wraps, or else it's unlikely we will see any kind of Carrie/Aidan reunion… at least this season.
According to papped photos from set, it's more probable that Carrie rebounds with a man Parker was photographed filming a date with and even kissing. The actor in the scene was Jon Tenney, who hasn't appeared in the series yet.
Stay tuned! But for real, even if Aidan does return we low-key hope that he doesn't get back with Carrie because he actually sucks. Facts and facts.
–
New episodes of And Just Like That drop every Thursday on Binge.