'Bachy' Sweetheart Kristen Tells Us Everything About Her Unseen Romance With Dr. Matt
Kristen, the blonde who spent the season premiere asking "how good is China?", was sent home from The Bachelor last night.
She appeared to stay under the radar for much of the season, before finally scoring a mid-season single date made up of kayaking, games and a DIY spa day. But then not a lot happened between her and Dr. Matt – not that we saw anyway.
Although we did see Dr. Matt holding her hand while he encouraged her to jump out a plane for him, when it came down to the final six, Kristen and the Bachelor's courtship seemed to end in a whisper.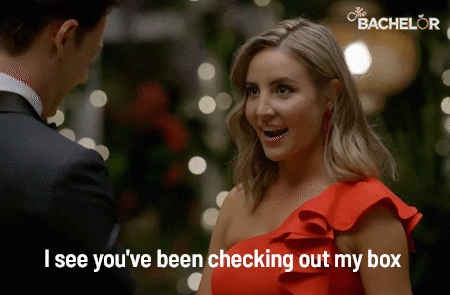 Punkee spoke to Kristen about not having any idea she was about to be sent home, the Elly-Abbie drama, and exactly how gross the coffee-chocolate scrub date was.
Here's what Kristen had to say about her time on The Bachelor:
On going on The Bachelor to get over an ex
"I was at a point when there was somebody that I was really starting to care about, but I just couldn't see whether something could happen. So I wanted to move on and I thought the best way to do that was through The Bachelor."
On what she really thought about the hunky astro-banker
"Matt is wonderful. There's so much that I admire about him – his passion for space and astrophysics and I just really enjoyed hearing about his journey to fulfil his dreams in becoming that occupation. He's really kind and funny and warm-hearted. He was great. He was the best Bachelor you could ever ask for."
On her connection with Dr. Matt that we did not see
"Unfortunately, that's something that you guys never got to really see except for a small glimpse into our single date. Whenever we were together it was really intimate and really special, but you literally didn't get to see any of that.
"[You missed out on seeing] from the beginning, just our conversations at cocktail parties and getting to know about each other's lives. In terms of my date that was only a small component, we spent a lot of time in and out of the water. And then after that, we had our one-on-one time over some wine and cheese – the best part of the date, and that's also the most intimate as well. That also happened after my skydiving that you didn't get [to see]. When we did have that time together at the cocktail parties, away from the girls, we were really close to each other then too. Basically my entire love story hasn't been shown."
On her messy first date with the Bachelor and how gross it was to watch it back
"We started off with just coffee scrub and I put that over his face a little bit. Then it was mostly chocolate. It was like a mocha [laughs].
"It was so much fun and there were a lot of sparks flying. We frolicked in the water for a very, very long time. I forgot the cameras were there so it was quite awkward turning around in the heat of the moment and seeing that it was all on camera – which you guys didn't even see. But I guess it's for the best. It was really special. We had so much fun, as gross as it was watching that – for you guys, for me, for Matt. Like what the hell was that? But it was hilarious."
On that terrifying skydiving date
"I got put on the plane and there was nowhere to really go but down [laughs]. I guess, you know, that's kind of what made me do it. But also I really did want to. I knew that it was a really cool experience, but it's pretty damn crazy. Like who wants to fling themselves out of a plane? I still don't really understand the concept. But it was exhilarating and I really did overcome a fear that day so I'm really thankful for the experience.
"[Writing on the application that I didn't want to skydive is] obviously why they picked [Nichole and I]. But [Nichole] was so brave and supportive of me and all the other girls. You didn't really see her freak out at all. I feel like I was the only one that was having a normal reaction and was just like packing it."
On not letting herself get caught up worrying about the other women with Dr. Matt
"You really have to train yourself to think a certain way and reflect in a certain way because it is so unnatural being trapped in the house with 20 girls all after the same man. You really remove yourself from the situation. And even watching it back, I still catch myself removed from everybody else's connection. It's just the only way to be in order to completely enjoy the experience.
"I know what's real and I know what happened. I know my connection with Matt, and that's the mindset I have and the mindset that we all need to remember going into an experience like this. You can't compare yourself or to let yourself be upset by other things the girls say, because that doesn't mean that it's a real thing."
On being totally blindsided by being sent home from The Bachelor
"I really didn't see it coming, as you can see from the shocked look on my face. I did have a really special connection with Matt. Obviously my single date had been a while before and I felt like I was due for my time to be able to develop that connection further. There's a lot of things that happened that night that you'll never know or see or we'll be able to talk about. But anyway, that was what happened and that's how it is."
On what Dr. Matt said when he took her to the limo
"The chat was a bit longer than that. We were talking about, again, all the special memories that we had together on our dates, how proud of me he was with facing a fear, and just wishing me all the best. And just how much of a hard decision it was for him. I trusted that it was. It's sad."
On the crux of last night's Elly-Abbie The Bachelor drama
"I think that what you saw in last night's episode is that a few of us were just a little bit shocked at Abbie in the moment's lack of consideration of others, because so many girls had put Abbie before themselves. It would've been an opportunity for Abbie to reciprocate that and show that respect back. But she just decided on an every-woman-for-herself kind of thing. That was just a little bit disappointing to Elly and I because we naturally are thinking of other people before we put ourselves first. It's important to put yourself first every now and again, but as you could see with Abbie, it was consistently."
On her response in the limo home to the possibility of Abbie as the possible winner
"I'd just been sent home. I was in shock. I didn't know what was happening. There was those moments that night where I was a little bit disappointed in Abbie's decisions. So I guess I was just kind of still feeling a little bit shocked by how everything went down."
On who she hopes will take out The Bachelor
"As you heard in the taxi, I was closest with Emma and Elly, so I think they would be absolutely incredible for Matt. But in saying that I think that every girl that's still standing has the potential to have a really special relationship with Matt. So you'll just have to wait and see."