We Spoke To Nikki Webster & Even She Agreed Her 'Masked Singer' Clues Were Too Easy
Noughties icon Nikki Webster was sent home from The Masked Singer last night – mostly because everyone knew who she was from day dot.
Alien came up against Prawn last week, and ended up in the bottom three. Lucky for her, Gretel Killeen as the Octopus was unmasked first. But this week, she wasn't so lucky and Alien was sent back to the mothership. It's fair enough – once everyone thinks they've got you pegged, there's not a lot of point hanging around.
WHO is the Alien? Do they come in peace? Do we take them to our leader now? WHOOOOOOOOO?!?!!! #MaskedSingerAU

— The Masked Singer Australia (@maskedsinger_au) September 30, 2019
There were obvious Vanessa Amorosi guesses, there was the Emma Watkins theory, there was the continued insistence that she could be Samantha Jade. But it seemed like Dannii Minogue and Jackie O knew in their hearts Alien's true identity.
Sorry Nikki! Your clues were obvious and you didn't really conceal your voice???
Still an icon though! I still remember all the words to 'Under the Southern Skies' because of you! Still unreasonably jealous of some singing you got to do 19 years ago!
Punkee spoke to Nikki Webster about the 2000 Sydney Olympics, how obvious her clues were, and what kind of vibe she was trying to give to the Alien.
Here's what Nikki Webster had to say about her otherworldly The Masked Singer experience:
On how her The Masked Singer clues basically gave her identity away from the start
"Maybe that's because I know myself, but I did think they were quite obvious. I guess on the other side it's quite flattering to know that even if people haven't heard me sing for 19 years, or they may have heard me randomly once or twice or whatever, it's pretty cool to see that people still recognise me.
"So for me, as an artist, that's the most rewarding for me that people are going 'Oh, yeah, that's Nikki, yeah, yeah.' And being quite nostalgic with it. That's pretty awesome. I feel very lucky."
On how weird it is trying to perform under a big Alien head
"Behind the mask, I'm still performing, I'm smiling and everything like that, but no one can see that. To me, it's quite freeing… It's an interesting concept, it really is – it's quirky, it's crazy.
"On a lot of these reality shows, you know the other contestants, you're standing next to them, you watch them rehearse so you know what you're up against on Dancing with the Stars and everything like that. With this show, we didn't see any of the other contestants.
"We didn't see them do their performance, we didn't see them rehearse, we didn't touch base with them. So we didn't know: are we going too far? Is this too much of a costume? Am I going crazy character-wise? Or am I not going enough and everyone else is going crazy?"
On deciding to go on The Masked Singer for her daughter
"It just sounded like a really fun opportunity when it was presented to me. I thought it was the right time, and it sounded like something really fun and something that my daughter would really love to watch as well. I was really excited to be a part of it.
"[My kids figured out it was me] only when I took off the head. Yes, they thought it sounded like me, but my daughter couldn't obviously work out that I would be in the TV and I'd be sitting with her. She's like, 'Hang on, you're here, no, it can't be you.' She was pretty surprised last night, so it made it all worth it."
On how nailing the 2000 Olympics Opening Ceremony was heaps easier than The Masked Singer
"I think when you're young you don't really think about the pressure. My main thing with the Olympics was to make sure I did a good job and I made the director happy, that I hit my marks and everything like that.
"It wasn't the pressure of people watching and what they thought, it was more about the people close to me, making sure they were happy with me. Whereas when you're older you start to go, 'Oh my gosh, am I doing this right? How does it sound?' You have a lot more pressure on yourself, I think. So I certainly did."
On how it was totally fine to be treated as a 'nostalgia' artist
"I'm really flattered to be recognised as being nostalgic, or when someone brings up the Olympics, to still be remembered. [I'm remembered] with the athletes who trained for years and years and years to be a part of the Olympics and win gold medals for our country and represent our country.
"I feel really proud to be able to stand next to them in that kind of sense. That people still remember the Opening Ceremony and what it produced for this country, it's the best feedback for you."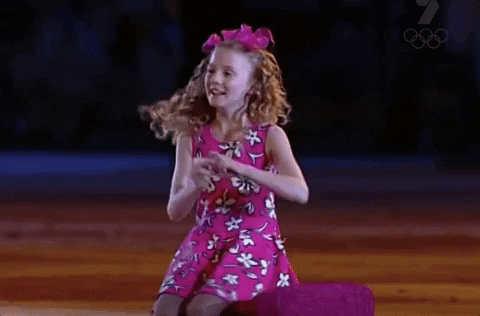 On what kind of character she was trying to create for Alien
"For me, it was a matter of the Alien arriving on this crazy world and land: Where am I? What is this? Who are you, Osher? And that kind of thing. However, when I performed that's when I felt safe, and that's when I came out of my shell – that was kind of what I was trying to portray. It's so hard when you can't talk or explain anything. It's literally going on hand movements.
"I was always thinking what does an Alien do? What kind of characteristics is an Alien? A lion roars. A robot has robot moves. What the hell does an Alien do? That was probably my biggest struggle. And I'm not sure I achieved it or not, but it was pretty crazy [laughs]."
On her return to the public eye and what she learned from The Masked Singer experience
"To me, I don't think I ever really left, I just was focusing on building my dance studio and things like that and building a lifestyle. To me, I am comfortable [in the public eye]. All I really know is being around this industry. I'm just very grateful to have been given the opportunity.
"I guess I found that I can still do it. I still love it. I still have a real passion for it. I love to sing and perform and I can still do it. I think that's probably the best thing that I found. And I can give things a go and do a really good job of them."
–
We loved watching you Nikki and until we meet again we will be playing 'Strawberry Kisses' on repeat.