18 Iconic 'Bachelor In Paradise' Moments To Tide You Over 'Til It's On TV
Bachelor In Paradise promised us earlier today that the 2020 series is coming VERY soon, after delaying it earlier this year, and finally my life has a sense of purpose again.
While I'm definitely not complaining that MasterChef was brought forward, there's something that could be heating up my living room right now that isn't a Hibachi grill. I am of course talking about the sizzling hot drama that happens when a bunch of Bachelor rejects get together to drink in the sun and have a little fun.
While we predicted that BIP (which normally airs in April) was moved on the scheduling program, due to the problems surrounding filming this year's season of The Bachelor with Covid-19 restrictions in place, it doesn't mean we didn't miss it.
So while we (im)patiently await its return, we've decided to look back on the most iconic moments of the last two seasons of Bachelor In Paradise:
1. Season one introduced us to SO many love triangles that the drama was always juicy without feeling forced.
In no particular order we had:
Jake, Flo, and Davey.
Jake, Flo, and Megan.
Tara, Michael, and Uncle Sam.
Michael, Lisa, and Luke.
Nina, Eden, and Canadian Daniel.
Jarrod, Keira, and Ali (or so Jarrod thought).
Mack, Jarrod, and Ali (even though Ali wasn't interested in either guy).
Megan, Jake, and Thomas.
Simone, Elora, and Apollo.
I mean we're probably forgetting a combination or two, but phew, that's a lot to process.
2. There was also that time we all thought Megan and Elora were going to hook up but it was really Megan and Thomas.
The promo for the show made it seem like Megan may have been making out with a beautiful brunette and fans started speculating we would see a same-sex relationship on the show. However when the show aired, we later learned the beautiful brunette was not actually Elora.
It was just some American intruder.
The show received backlash for queerbaiting and we never spoke of Thomas again.
3. And who could forget when Flo threw a glass of champagne on Jake, after he played both her and Megan?!
After Megan and Flo exchanged stories about their time and conversations with Jake, upon hearing that Jake described his date with Flo as a "friendship date" she threw a glass of champagne on him. Unfortunately, it wasn't entirely caught on camera but she later apologised for her behaviour.
But really, Jake giving Megan a rose then begging someone else to pick Flo at the rose ceremony, so he could continue to explore both connections, really says it all.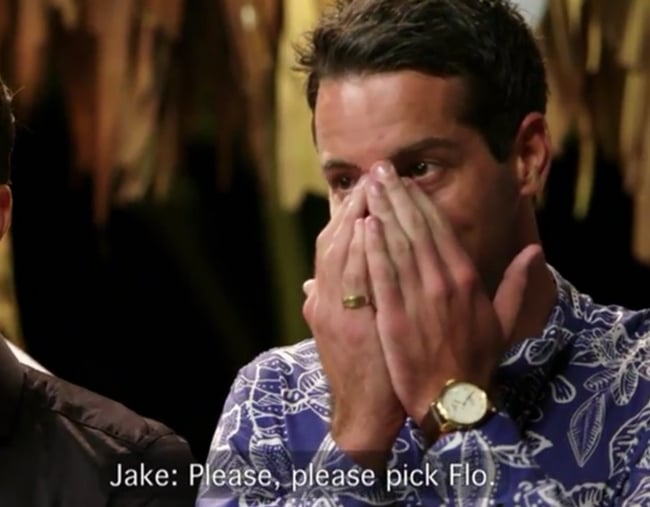 Jake walked so dog park Bill could run.
4. All the guys collectively lost their shit over Ali when she entered. Naturally, after the show ended she became our next Bachelorette.
It was hot competition between Mack, Michael, and Jarrod but Ali rejected them all for Grant in the end. I mean, it's slim pickings whichever way you look at it.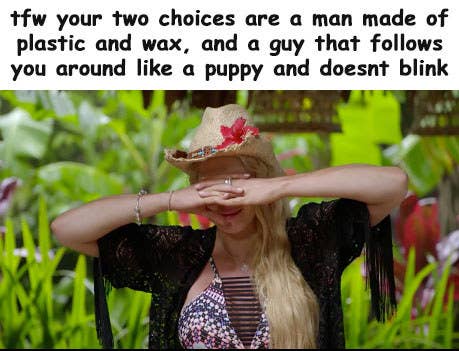 5. Blake called Laurina 'Lenora' when giving her a rose and it's still funny to this day.
I don't know what's funnier, queen Laurina's icy glare or Tara's obvious amusement in the background.
Also, what is this hair Blake? You never deserved Laurina.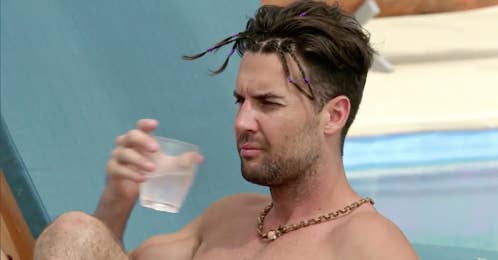 6. Also, Wais deserves his own special shoutout for being a constant shining beacon of light.
Bring back Wais!
Who didn't love a margarita with a side of life advice?
7. Jarrod and Keira became the couple we all rooted for (for some reason).
These two were always an odd match and looking back, Jarrod really strung Keira along for some time. But for some reason we really wanted them to work it out. And they did! For a while, anyway.
8. To round off series one, who can forget the fact that the first series of Bachelor In Paradise ended with a proposal? Even if it was followed by Australia's messiest breakup.
For a while, Uncle Sam and Tara were couple goals. The two started as friends on the show before their romance blossomed and Sam proposed on the series finale to a gleeful Tara.
The two stayed together but split not long after the show aired, with Tara calling their relationship toxic, and Sam also airing their dirty laundry to the media.
9. Series two brought us a different cast, who seemed a little more focused on the hookups and partying, and a little less on forming deep romantic connections. But once again, Brittney's chaotic energy was contagious.
10. Brooke spilt the tea on what really went down with the Honey Badger.
"He's going to hate me for this" – Brooke spills the tea on Nick Cummins. #BachelorInParadiseAU pic.twitter.com/DNqD59CvTP

— Bachelor In Paradise Australia (@BachParadiseAU) April 9, 2019
11. American Alex was there and that's all we could've really ever hoped for.
12. Former Bachy couple Richie Strahan and Alex Nation reunited in paradise for the first time and it was extremely tense.
Who could forget these former lovers reuniting and having a very confusing conversation about their breakup and "moving goalposts" around as a metaphor for… something.
They sorted out their differences (for the cameras at least) but it was definitely an intense exchange that left us with more questions than clarity.
13. Rachael falling off the podium during the rose ceremony after Richie gave his rose to Cass.*
*Look it probably didn't happen this way, but who can resist a cheeky edit.
14. Davey and Flo both came back to reunite with each other, even though it was the love story NOBODY asked for.
It's safe to say it was harder to care the second time around when we didn't really care in the first season. Also, as if these two weren't in each other's Instagram DMs the whole year in between.
15. Brooke and Alex Nation shared the Bachy franchise's first same-sex date and kiss.
Brooke later came out and said their relationship wasn't genuine and thought Alex's intentions weren't pure.
16. Somehow the lure of dogpark Bill was too much for Alex, even though he consistently managed to prove he's the worst.
Bill managed to play Flo, Rachael, and Alex during his time on the show, but we'll still only ever really remember him for the dog park.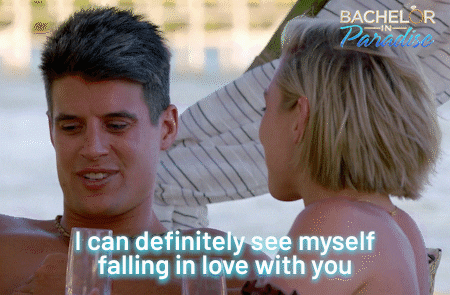 In less shocking news, Bill and Alex didn't last long after the show.
17. Alisha truly carried the whole damn season on her weary shoulders.
From her commentary to the most perfect breakup phrase of all time, we bow down.
A sad end to Alisha & Jules ❤️ #BachelorInParadiseAU pic.twitter.com/7YPNAbqc6F

— Bachelor In Paradise Australia (@BachParadiseAU) May 2, 2019
18. And we were given a WHOLE episode dedicated to a reunion.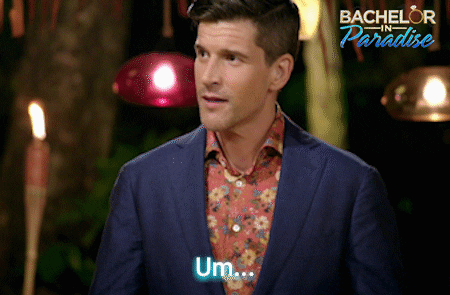 No pressure but MORE reunions in the future pls Sir Osher and co.
–
Anyway, if you need me I'll be off waiting for the 2020 season to start…any day now.