16 Moments That Prove Reality TV Wasn't All Bad In 2020
2020 was an absolute shitshow of a year, we all know that by now. And things didn't get much better over in the world of reality TV.
This year, our staple shows: Married At First Sight, The Bachelor, and The Bachelorette provided us with lacklustre moments, love stories that were hard to become invested in, and so much orchestrated drama that it sucked out all the fun of watching these shows.
So while we're still recovering from the mess of Locky Gilbert, and Elly and Becky Miles' seasons respectively, it's important to remember that reality TV wasn't ALL that bad this year. In fact, there were some pretty damn good moments.
"Sounds fake, but OK," you're probably thinking. But stop! We're here to remind you that MasterChef brought us SO many wholesome moments, even in the darkest days of lockdown. We're here to reminisce on David Genat's Australian Survivor: All Stars journey (yes, that really was this year). And even if Bachelor In Paradise was a bit of a hot mess, it brought us not one but TWO epic love stories.
Let's take a stroll down memory lane and remember the good parts of reality TV this year:
Not to be dramatic or anything but given the opportunity I would definitely trade some of my adult friends to be mates with Ben. Culinary genius, highly entertaining, excellent roaster of dads, will drink, & clearly a legend in general. Yep, way cooler than most. #JrMasterChefAU pic.twitter.com/UIbXW1tdL4

— Sahar Adatia (@sahar_adatia) October 12, 2020
He won us all over with his enthusiasm, contagious laugh, and one-liners. Someone give this kid a cooking show ASAP.
2. Actually, just all of Junior MasterChef.
Nothing but positive vibes for Filo ✨ #JrMasterChefAU #MasterChefAU pic.twitter.com/M8I7mHoYSO

— JrMasterChefAU (@JrMasterChefAU) November 12, 2020
The kids were so DAMN wholesome and always happy to help each other out. Are we just a Filo stan account now? Maybe!
3. Hot David winning Australian Survivor: All Stars.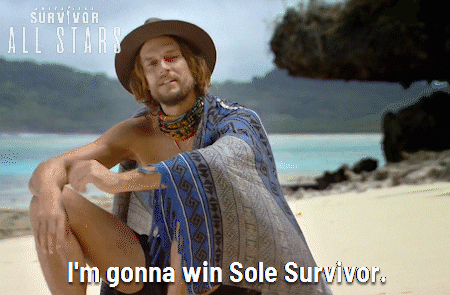 He outplayed, outwitted, and outlasted his competitors, while permanently cementing himself in the hearts of all Aussies. A true King.
4. Mary and Conor's love story on Bachelor In Paradise.

From a Paradise romance, to one of the cutest families to come out of the Bachy series, Cleanskin Conor and Mary reinstalled our faith in the franchise.
5. And Alisha and Greg making us all believe in love again.
Still get emotional just thinking about their love.
6. Alisha & Renee's girl empowerment episode on Paradise.
Watching Alisha be there for Renee and encourage her to get rid of her baggage (the ring she made for Ciarran) and yeet it out into the ocean was one of our favourite Paradise memories.
7. Juliette keeping things entertaining for us on The Bachelor.
If it wasn't for Juliette during the Zoom lockdown episodes, would we have even watched? Queen of dancing to no music, Queen of shutting down her laptop mid-argument, Queen of getting her hair stuck in a plant… honestly, what can't she do?
View this post on Instagram
Forget the Big Brother showmance between Chad and Sophie – Angela finally being gifted her tea after being deprived was a heartwarming moment for all.
9. Katy Perry featuring on this year's MasterChef.
Katy Perry's insane self was the only person who could've saved this hellish week. Everyone's happy, Sarah's flirting, Brendan's about to throw himself off the balcony, Khahn is shading a pop star from the gantry, Poh's smiling again, Reece can't stop blushing. #MasterChefAU pic.twitter.com/57DutYZp7w

— Michelle Rennex (@michellerennex) May 14, 2020
They've used 'Hot N Cold' as their theme song for years, and finally Katy graced the MasterChef kitchen with her presence, much to the delight of all the contestants. She's the chaotic judge we never knew we needed.
#MasterChefAU I reckon you'll be pretty happy with this reaction @PohLingyeow @katyperry #MasterChef pic.twitter.com/QsYQXJrjNl

— Magda Szubanski AO (@MagdaSzubanski) May 14, 2020
10. And Reece and Brendan's wholesome MasterChef friendship.
Leave me alone @reece_hignell https://t.co/oiNYDp9VpH

— Brendan Pang (@brendan_pang) May 20, 2020
Watching the BFFs playfully bicker, all while supporting each other was the MasterChef spinoff segment we all deserved. They made the show that much more entertaining to watch.
11. Poh's chaotic energy gracing our screens again and gifting us with many memes.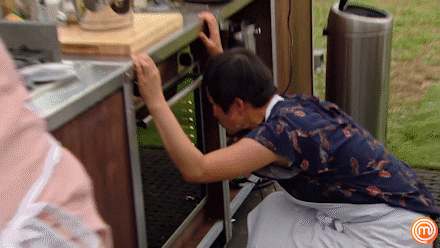 Watching Poh was somehow glorious and insanely stressful all at the same time, and the season wouldn't have been the same without her.
Me watching Poh try to cook a four-hour cake in 90 minutes #MasterChefAU pic.twitter.com/MAnbb6Ab8W

— Michelle Rennex (@michellerennex) April 19, 2020
12. And of course, the three new MasterChef judges adding a whole new dynamic to the show.
Melissa: The char of the asparagus is finely balanced by the crisp sourness of the green apple.

Andy: yeah bloody oath that Apple has some zing ay!#MasterChefAU

— Niccy T (@NicReality) May 11, 2020
From the memes that spurred the "Andy vs. Melissa" critiques, to the joy Melissa brought into our lives as a judge, we can't even remember the names of the three other dudes who used to host this show.
Melissa you are ALSO style and substance in equal doses #masterchefAU pic.twitter.com/mzXgVU9V4S

— Amber Robinson (@missrobinson) May 27, 2020
13. 2019's Love on the Spectrum making its way to a larger audience on Netflix.
Debuting on ABC late last year, a lot more people got acquainted with the four-part series Love on the Spectrum after it was released on Netflix. Forget The Bachelor, we are forever invested in Michael's journey to find love!
14. And on an international note, watching the couples from Love Is Blind find love and, for some of them, stay in love.
View this post on Instagram
Forever obsessed with Cameron and Lauren, while being equally obsessed, yet somewhat surprised that Barnett and Amber really did make it all work out.
ADAM SAVED THIS SEASON!
16. And in the most wholesome news, Trish being set free on MAFS.
The show won't be the same without horny Trish, but we're glad she got out.