Helena Is Pretty Glad She Didn't Fly To South Africa To Get Dumped On 'The Bachelor'
Helena was sent home on the second-last episode of The Bachelor last night, and no one was surprised.
At hometowns last week, Helena repeatedly dumped Dr. Matt. She seemed to get in her own head about him not remembering their Francophile first meeting on the red carpet and that his bad memory demonstrated that he didn't really like her enough. They would reconcile and then she would say, 'I can't do this,' until Dr. Matt left Perth bewildered. Would she even show up to the rose ceremony?
She did – and she took him aside for a chat, which defied Bachy convention, but may have kept her in the competition.
But Dr. Matt wasn't past it by the time they went for Spanish food? – not sure what that date was – last night and pressured her to open up more about how she was feeling. Basically he reckoned she was 'testing' him back in Perth, and that's not a good foundation for a relationship.
But perhaps neither is a weird pearl date where you don't pash because someone's too in their own head about the phrase "dog c**t". Or being grilled on your baby-making timeline by former Bachelors.
There were sweet moments between Helena and Dr. Matt too though, like being gifted pearl jewellery, group skydiving, or when Helena was kinda spooked by the plan-out-our-future date, so they skipped straight to a moonlit bath. That was very romantic!
At the very least, we will always have the moment Helena made Dr. Matt look like a clown.
"I look like the joker!" The woes of wearing a red lippy. #TheBachelorAU pic.twitter.com/PxrMexUJPf

— The Bachelor Australia 🌹 (@TheBachelorAU) August 22, 2019
Punkee spoke to Helena about how Dr. Matt looks a bit like her ex, how she wasn't in love after just three dates, and how she felt grateful about going home third.
Here's what Helena had to say about her time on The Bachelor:
On what was really going down during the whole hometown drama
"I'm not really one to test someone. I think that's a pretty childish thing to do. What was going through my head was basically like at the dinner table, you know, he forgot our meeting, but then he also forgot what I did for a living – he asked if I was a theatre nurse – and then he asked where I was from. And I was like, 'Oh my gosh, we've spoken about this about six times.' It formed the basis for so many of our conversations and dates. I think when he forgot all those things in a row, my heart just kind of sank. I was just like, 'Oh no. I just don't think I'm the one.' If I was the one, he'd remember these things, because they form the basis of who I am.
"When I panicked it wasn't just from one thing, it was from multiple things. I think if anyone did that to me in real life, I would probably have a similar reaction. I just had a really bad feeling in my gut that perhaps the feelings weren't being reciprocated."
On how she almost mistook Dr. Matt for her ex
"He actually is like a carbon-copy of my ex-boyfriend, so I'd say he probably is my type. When I walked out of the limo on the first night, I thought it was my ex-boyfriend. I nearly got back in the car! What attracted me to him most is his intelligence and his wit."
On how she really felt about the Bachelor by the end – she had feelings, but not capital L feelings
"My feelings just continued to progress. I will always think, 'what if?'. I, by no means, was in love with him at that stage. I'm maybe a little bit more of a slow-burner. But, to me, love comes in so many forms, and I just believe like you have to meet someone's family and maybe travel a little bit together to fall deeply, deeply in love. I liked him a lot and I definitely saw a future with him, but I never got to the point where I was gonna say 'I love you.' Because if I said that I would just be saying that for him to hear, do you know what I mean?
I don't know whether he wanted me to say it, but I could never just say something for [the sake of it]. I don't think I was trying to protect myself. I was just true to how I felt, and how I felt was that I had feelings for him, but after 12 hours with him, I'm not gonna be like, 'I love you.'"
On what we didn't see on her first and last dates with Dr. Matt
"We actually kissed like five times on my first date and they didn't show it. I was like, 'Damn it!' I felt like our connection was really good.
"My final day with him was actually super romantic. He was very touchy-feely and kissed me a lot. And then after that conversation we had, we went on to another bit where I wore this beautiful princess dress and there was an opera, because the next country he was taking me to was Italy. So I was really sad that wasn't aired because that was probably one of my favourite moments."
On how she had a feeling she might be going home
"Once I walked into the rose ceremony and saw his face, he just looked at me and I was like, 'Yeah, I'm going home.' The rose ceremony goes for a little bit longer than I think everyone realises. At that time, I was just standing there, I was just digesting the fact that I was going home."
On how she felt she might have dodged a bullet by coming in at #3
"I literally said as much to Matt. I was like, 'Matt, please do not drag me to the final two and then leave me in some wild safari to be eaten by lions' [laughs].
"I just think in these kinds of shows, ideally you leave third because he doesn't like you enough or, you know, out of respect for you, he just lets you go… or you win. But to become that second person, it must just be the most heart-wrenching thing, and then you've gotta fly home for 30 hours. I just can't even imagine it."
On going on The Bachelor because she felt ready to find love
"I know everyone says it but I just genuinely went on there because I was ready to find someone. I've done my share of dating, I've done my share of travelling, and I'm really ready to just meet someone that I can settle down with. And then also, I was like, if that doesn't work out, I think it's a cool opportunity, you know? Like it's something to tell the kids one day to be completely honest."
On how she wouldn't change anything about her time on The Bachelor
"I wasn't just gonna stick it out just to get some more airtime or whatever. I think I was pretty true to myself and I think everyone everything panned out how it was meant to be. And all I can hope now is that he's made the right decision and that he has a really good future with whoever he picks.
"It's really tough to watch back. But most of all, like, by then you know that he's with someone else. You've just gotta move on really."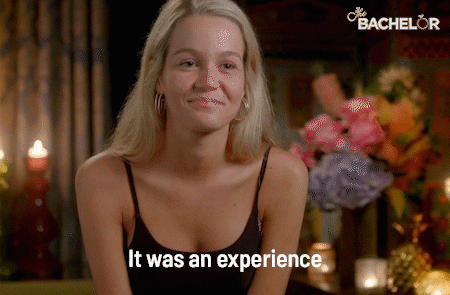 On whether or not we'd see her on Bachelor in Paradise
"I would consider it. But it scares me. It already scares me. I don't know why. Never say never, but it's something I'd really have to sit down and think about."
On who she hopes will win Dr. Matt's heart
"I'm hoping it's Chels. She's like my best friend and I just think that they would make a really, really good match."