In Honour Of Horny Abbie, Here's Every Shirtless Image Of Bachy Matt We Could Find
Everything you need to know about this story is in the title: The. Bachelor. Shirtless.
The Bachelor is coming to a close. That means we will no longer be treated to shots of the very ripped Dr. Matt shirtless on a weekly basis.
So, as an ode to the horniest Bachy gal to ever pursue a buff man on national TV, Abbie, we've compiled all of the Buff Space Bachelor's shirtless moments.
There's a lot of them! But so we don't yuck anyone's yum, we're choosing not to include moments we're he's like, y'know, shirtless in a pool all over one of the women. That's no fun! I'm very lonely!
Throughout the season, Dr. Matt, astrobanker, was certainly not shy about showing off his body.
Whether he was swimming with one of the contestants, getting a bit sweaty on a hike, or staring out of a window musing about the true meaning of the phrase "dog c**t", Dr. Matt knew that he'd be able to get the best results – see: cultivate the most thirst both in his suitors and in the general public – by going sans shirt.
Oh no another date where Matt is shirtless and has to use his arms a lot! You're welcome Australia. 💪 #TheBachelorAU pic.twitter.com/l6wp35mEIF

— The Bachelor Australia 🌹 (@TheBachelorAU) August 22, 2019
And he's worked for it! He has a lot to be proud of. Talking to 10 daily, he said he stayed in shape with intermittent fasting and portion control, as well as running, weight training and healthy eating. Wow! He does all the things you are meant to do in order to keep trim.
There is nothing at all wrong about a little bit of thirst for your Bachelor.
In fact, it's encouraged, or else Channel 10 wouldn't be giving us all of this:
This was our first shirtless Dr. Matt moment. Jogging across a beach. Thinking about the task ahead of him. Abs jiggling in the wind.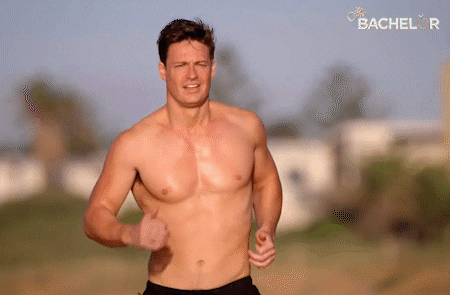 But don't worry, folks, we didn't have to wait long! He was all too eager to unbutton his shirt for Chelsie's oxytocin temporary tattoo on the first night.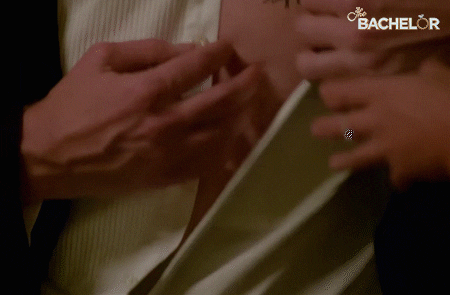 The photoshoot ep offered the next Dr. Matt shirtless moment, as he unbuttoned his shirt to fully inhabit the role of Romeo? But no complaints here.
Who could forget the moment Dr. Matt gazed through a window, shirtless, wondering how Monique could call him a "disrespectful pig"?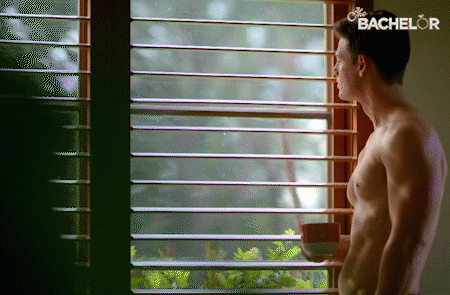 Chelsie's first date had the Bachelor covered in flour, and the pair quickly jumped into the Bachy pad pool to wash it off.
What's the normal way to play noughts and crosses? Shirtless!
Elly gave the Bachelor a flanno so that he could embrace his inner country boy, which gifted us with this scene.
This pose is what I call, "I'mma let you finish," because Dr. Matt is just about to interrupt Helena to plead his case for best Bachy bod of all time. But really, this is before they got in the tub together, like siblings sharing a bath.
When did Dr. Matt go for a swim to open an episode? We don't remember, but there's this shirtless .gif to prove that it happened. (This was before hometowns.)
And then at hometowns, he didn't hesitate to strip down to get in the pool with Abbie.
Going for a casual hike while trying to decide whose heart to break first? What a perfect time to rip your kit off.
Dr. Matt, as a nation, we are so grateful to you and your ripped bod. Happy finale day, friends!
And if this was not enough, here's NW's shirtless shoot from July this year. You're welcome.