We've Rated Every 'Bachelor' Cheeseboard From This Season Based On How Hungry It Made Us
In almost every episode of The Bachelor we see Dr. Matt and a woman – if not more than one – just hoe into a cheeseboard.
Or at least we imagine they demolish the cheeseboard – usually all we see is someone demurely picking at a plate laden with camembert and some fine wafer crackers.
But not all Bachelor cheeseboards are created equal. Some girls have definitely ended up with a weak cheese selection. Maybe that's because they were just copping one-on-one time, rather than inhaling a plate of brie after a single date.
Or maybe sub-par cheese platters are a way for Dr. Matt, a lover of blue cheese (same), to passive-aggressively tell these women he's just not that into them. We just don't know.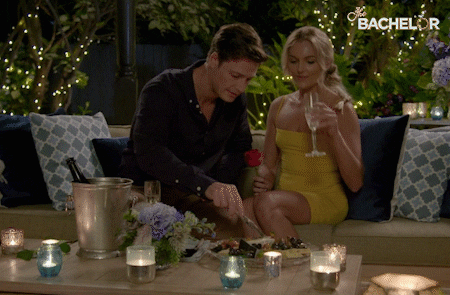 ---
We did our journalistic duty and obsessively rated the quality of every cheeseboard that's appeared on this season of The Bachelor.
---
Episode Two:
There were no cheeseboards during episode one, only marshmallows. So we're skipping straight to episode two, half of which was taken up by another eight women arriving at the mansion.
The episode two single date is a disappointing start to the cheeseboard content. How am I meant to make judgements about cheese plates when they're obscured and dark? Luckily Sogand and Dr. Matt are so enthralled by the string quartet – and going in for the first pash of the season – to think about the cheese or drink much sparkling wine.
But I'm going to be up thinking about this mystery cheese all night. No rating yet, I don't know what it is.
---
Episode Three:
When Elly cashes in her golden ticket for a single date in episode three, she's whisked down to Flemington Racecourse where after some casual cowboy shenanigans they have plenty of wine and cheese.
While it's not the best shot of a platter, it is clear to see that here we have both cheddar and blue cheese, two types of grape, two types of cracker, and apricots. Paired with sparkling wine. Delightful!
Rating: 4/10. Two types of cheese puts this board ahead. But where is the fig jam?
Later in the episode, Nichole wins one-on-one time for her sheer enthusiasm for AFL. After listing off all the sports that she has played in her entire life, she scores a rose, which Dr. Matt clumsily snapped. To cut the tension, he diverts our attention to the cheese. "We didn't get stuck into the cheese at all," he remarks. "Are you a cheeser?"
Looks like a goats cheese, maybe some camembert, strawberries and grapes, and two types of crackers, all paired with sparkling wine. Considering Nichole didn't get a kiss, this is a solid consolation prize cheese plate.
Rating: 4/10. Held back by the cheese selection – hard goats cheese is the worst cheese. Don't @ me.
---
Episode Four:
Monique's high octane single date caps off with wine and cheese, but really all we can make out here are pieces of fruit, probably grapes. I have to assume that the cheeseboard is so underwhelming even the camera guys are like hell no, not shooting that.
And there's no cheese when Abbie is on her own, twisting tongues with Dr. Matt after their extremely horny photo shoot.
Episode four: a Bachelor cheeseboard bust.
---
Episode Five:
After Abbie's squelching single date, she and Matt do not appear to share cheese. Or at least there are no clear shots of it, only a foreboding knife on a napkin.
Meanwhile, back at their Central Coast resort, Vakoo, Emma and Mary lay into a cheeseboard of their own, which immediately trumps every other Bachelor cheeseboard we've seen.
Sure, we're staring at some YouFoodz product placement, but behind that, there are at least four different cheeses here! Soft, hard, maybe even smelly. There's a selection of fruits like red grapes and strawberries and dates (stop using dates), and at least two types of cracker, including the heartier grain.
Rating: 6/10. Variety is the spice of life.
When Chelsie nabs some one-on-one time with Dr. Matt, the chemical engineer jokes that she doesn't actually find him intellectually stimulating. "You're just here for the free wine and cheese platters," Bachy quips.
Eventually she does acknowledge that he's "smart", and they flirt by calling themselves "nerds" and talking about the engineering textbook she brought into the mansion. There are no clear shots of the cheese for me to assess, but it does look there's a platter in the medium shots of the outdoor setting.
There's also the clear implication of cheese when Helena and Dr. Matt have a picnic after their weird oyster date, but we only get a good look at the oysters. There's simply no way to make a fair assessment of the platter's quality.
---
Episode Six:
"Should we have the cheese?" Vakoo says, through laughter, during her hard-won one-on-one time with Dr. Matt. The only way to cut through the extreme humour of the situation – "to help relax things a little bit" – is to each eat a single sour strawberry.
What is this pitiful selection? One type of cheese (just brie?), two types of cracker, a fig, red grapes, blueberries, and TWO strawberries. TWO. Paired with cab sav (hate it).
Rating: 2/10. Would not recommend this extremely awkward Bachelor cheeseboard.
After their baking single date, and a pash in the pool to wash all the flour off, Chelsie and Dr. Matt sit back and relax with the fruits of their labour: banana bread.
The banana bread was paired with sparkling wine??? That's a strong no from me.
Rating: 0/10. This is not a cheeseboard.
---
Episode Seven:
Even after taste-testing truffles and chocolate cake on their single date, Emma and Dr. Matt are still supplied with a casual evening cheese plate to help them to get extra soppy with each other.
Cheddar, more strawberries than Vakoo's (but no word on whether they're sour or not), a handful of nuts, dates, red grapes, wafer crackers which would surely struggle to hold the weight of a hard cheese. Consumed with white wine.
Rating: 3/10. A cheeseboard that barely interests me.
---
Episode Nine:
You will be shocked to know that there are no cheeseboards in either episode eight or nine. That's right! Kristen's single date is all coffee and chocolate scrub, no wine and cheese. The date with Dr. Matt's friend Kate featured only wine, not cheese. And there's no cheese when you're skydiving.
But on episode nine, there's a return to the schoolyard marshmallow campfire thing between Elly and Dr. Matt. Dr. Matt has a big glass of marshmallows, like he's just going to pour them all in his mouth to see how many would fit in there.
It's time to mercilessly roast marshmallows, and not in the delicious melt-in-your-mouth way. It's so much sugar! After one (1) marshmallow, I am done. After one (1) cheese, I am absolutely not done.
Rating: 0/10. Also not a cheeseboard.
---
Episode Ten:
Finally! A Bachelor cheeseboard we can truly get our teeth into. After Chelsie and Dr. Matt's rag jumping/frontward abseil down a hotel, they go for a chat and a pash at the hotel restaurant, accompanied by entire tubs of Magnum ice cream slowly melting at room temperature.
This cheeseboard is just a wheel of brie, with some blueberries, red grapes and pita chips, paired with sparking wine. Pita chips are delicious, so an extra point for that, but otherwise this is an extremely bland and underwhelming snacking selection.
Rating: 2/10. What's the point? Where's the blue?
---
Episode 11:
Amidst all the Bachy royalty chat, there's a distinct lack of cheeseboards. There's no discernible cheeseboard during Emma's chocolate date either, but there is this extremely delicious looking platter of chocolate, chilli and raspberries. I sincerely hope Emma dared Dr. Matt to eat a whole chilli to demonstrate his masculinity/hotness.
I include this here because it is making me extremely hungry.
Rating: 1/10. Not a cheeseboard, but I want it more than half of these lacklustre cheeseboards.
After so little cheese this episode, Abbie and Dr. Matt use their one-on-one cocktail party date time to talk cheese. "This is a new platter," Abbie exclaims. "I'm not a one platter kinda guy," Dr. Matt replies.
We've got raspberries, we've got breadsticks, red grapes, fruit and nut crackers. Is that an out-of-season mango? Sure, the raspberries are brag-worthy, but why haven't we been given a proper gander at this cheese? What we're looking at here is fruit and carbs.
Rating: 1/10. The only limit to the cheese on this platter is my imagination, and my imagination is limited.
---
Episode 12:
Helena is spooked by the intensity of being asked to create a ten-year timeline with a man she has had one date with on national TV. But once her fear passes he brings out a big moonlight projection thingy, a bathtub, and champagne and cheese.
Still, it's hard to make out what exactly we're looking at here. There's crispbread twists, grain crackers, a hefty maybe blue cheese and strawberries. It's a bit of a hectic cheeseboard that doesn't quite make sense.
Rating: 2/10. Just be better?
It is simply impossible to know what kind of cheese Chelsie and Dr. Matt tuck into after the drag self-portrait group date. It is yet another mystery cheeseboard, with almost zero clues as to its content. Disappointing areas on episode 12.
---
Episode 13:
While there seems to be barely a hint of cheese during Elly's one-on-one time, only white wine and unmet expectations, there was definitely a Bachelor cheeseboard during Abbie's moving house single date.
Dr. Matt and Abbie tucked in straight away, cheers-ing their white wines while holding crackers topped with cheese. These two are united in their love of cheese.
But yet again, instead of showing us cheese, we're just served the idea of cheese. I don't know what this is. Dates? They look like dates, the worst fruit. Very small plums? Could this be a plate of Jatz crackers and a tub of Philly cream cheese? I would walk tf out of this date.
Rating: 1/10. Please just tell me what type of cheese this is. I am famished.
---
Episode 15:
There were no cheeseboards at hometowns! Just beautiful shots of plates of beans. How good is mum's cooking amirite?
And on episode 15, the semi-final, there was a cheeseboard. There was. You could just barely see it. While Abbie didn't appear to be tucking into cheese on a superyacht, and we didn't get far enough into Helena's date to see them tuck into anything at all, Chelsie got a traditional Bachy cheeseboard as she cracked the code to Dr. Matt's heart.
But what is on this? Red grapes? Brie? Blue? Camembert? Dates again!! There could be three types of cheeses here, which would make this a remarkable cheeseboard indeed. So why won't Bachy producers just let me see it!!!
---
Episode 16:
There were frankly too many opportunities for cheeseboards in the season finale of The Bachelor.
I have to assume Dr. Matt's BFFs Kate and Jason were drinking mimosas in the morning, while tucking into this plate of ham? Is that a tiny pineapple?
What is with South Africa and plates of ham and maybe also chillis?
For some reason, considering they're both cheesers, there was a distinct lack of cheeseboards on their final date. Then on Dr. Matt and Chelsie's final date, we were yet again served mystery cheese.
Look at the cheese hiding behind Dr. Matt's not-so-sun-tanned legs! They're having white wine and cheese, I fkn know it. It looks like red grapes, two types of cracker and a brie. A boring platter!
Rating: 1/10. What's the point of a cheeseboard if you're not going to take a gratuitous close-up of it?
---
It is done. The season is over. I no longer need to take crummy screengrabs of cheese. Thank you for being here for me in this trying (very hungry) time.