Here's Everyone Who's Had A Cheeky Pash With Bachy Dr. Matt So Far
Dresses, fights, and perfect snogging – the reason we watch The Bachelor is to live vicariously through other people's dreamy romantic lives.
What's more fun that watching 28 women vie for the affection of one ripped man – this year with bonus glasses?
Dr. Matt has come on strong with the smooches this year. He hasn't held back at all, currently averaging a snog an episode.
Some former Bachelors have held back on the tongue-twisting business until later in the season – both Honey Badger and Matty J waited until episode three – but not 32-year-old Dr. Matt. He just wants to test out all that chemistry, I mean astrophysics, ASAP.
So we've devised a system to keep track of every cheeky pash this season: a Bachelor kiss counter.
---
Abbie, 23

Tally: 18 pashes
On episode four, Abbie went full steamy in the annual Bachy photo shoot. There was so much chemistry there that Chelsie would've been proud (or furious).
At the cocktail party, the women chose her over Sogand for some one-on-one time in the relatively private space of the orchard. Everyone said, ofc, with that kind of vibe on the group date, they're going to snog. "No, no, no, that's fucked," Abbie insisted.
She proceeded to do just that, over and over again, barely able to speak to Dr. Matt for all the ongoing sexual! tension! And then returned to the girls. "It's a lot, it's a lot, it's a lot," she repeated. "We just had a chat..like yeah. But it's fine… We started talking, then we'd kiss again, then we started talking, then we'd kiss again."
Then on episode five, Abbie copped a single date, which involved stamping on citrus fruits like they're grapes. Pro tip from a former bartender: there's this thing called a citrus juicer which involves significantly less risk of fungal infection.
They kissed when she received a rose, then heaps in a weird shallow pool, before Abbie set off the episode's "dog c**t" drama.
Abbie scored one-on-one time with Dr. Matt after the acrobatic group date on episode ten. The pair performed a routine together which saw them spinning on aerial silk into each others' arms/lips as the winner's music played. It was a solid, saucy pash.
Then during the sit-down portion of proceedings, Abbie dropped the 'L' word, saying she could see herself falling in love with Bachy. Well, if that kind of declaration doesn't warrant some tongue twisting, what does?
During episode 13, Abbie scored her second single date, which involved pretending to move into a house with Dr. Matt.
Instead of having to do the nitty gritty of actually lugging heavy boxes up three flights of stairs to a new flat, or trying to having a screaming match over Ikea furniture, they had cutesy fun while making the bed.
Cue: a pash that basically graduated to dry-humping.
Now that we're up to episode 14, it's the point in the season where the pashes are so free-flowing we have to set some arbitrary rules.
We're adding four pashes for hometowns for Abbie: when they see each other by the Brisbane River, in the pool, sitting by the pool while masseuses stand awkwardly behind them, and outside Abbie's uncle's house. It's all very horny, and they say as much.
But it's also sweet, when Abbie says she's "falling in love with [him] very quickly" with Dr. Matt.
It's finale week, baby! And that means there's lots of pashing to be done. For Abbie, that was pashing on a boat ramp, a small boat, in the water/on a beach, and then on a bigger boat. + 4 pashes! Well done. Our horniest Bachy contestant ever also told Dr. Matt that she loved him in episode 15, and it seemed real.
I'm not describing their horniness any more than this, because we all saw it and there's really nothing that I can add here. They want to fuck and they enjoy each other's company. That's what we got from this episode.
The finale saw Abbie and Dr. Matt do plenty of last-minute necking, right up until he said goodbye to her forever. They pashed before meeting the friends, they pashed on the savannah before their date, they pashed in a helicopter, looking at craters, and then they pashed by a fire. Four more pashes!
Abbie was eliminated in episode 16 because Dr. Matt's heart was with Chelsie.
---
Chelsie, 28
Tally: 14 pashes
Chelsie scored the only pashes of episode six. With her sweet single baking date, the chemical engineer proved herself to be a real contender for Dr. Matt's heart.
They seemed seconds from snogging while covered in flour, before really going for it in the pool, washing off (still gross, think about the pool filter), and during the cheese portion of proceedings.
After the deeply unsexy rag jumping date between Chelsie and Dr. Matt in episode ten, where she mostly dangled helplessly in the air, they were so relieved to be on solid ground that they had to go in for a smooch, helmets and all.
They then headed back to hotel restaurant to pash, but not until after Chelsie had explained why it's so difficult for her to open up to him – her last relationship involved infidelity and gaslighting. Nothing like telling him personal details to get the Bachelor all horned up!
Chelsie won one-on-one time with the Bachelor because she was vulnerable at the drag self-portrait group date.
She used her time alone with Dr. Matt to explain that she can totally overcome her issues with self-doubt if she's with the right person, and that she can see herself falling in love with him. And in the Bachy playbook, that open and honest move warrants a big smooch and a rose.
After a series of pecks in the park and at the pub, and after sharing a meal with her family, Chelsie and Dr. Matt had a pash outside her house. Still, she was too afraid to cop to anything more than the phrase "falling". In love? Over? We just don't know.
Don't think that because Abbie is the Master of Pashes that Chelsie isn't getting her tongue in Dr. Matt's mouth. She absolutely is. On episode 15, they pashed upon seeing each other, before getting into his Porsche, then by the river, in a sea plane, and when he presented her with an oxytocin chemical formula necklace.
It's +4 pashes for Chelsie too, who is frankly shocked that she could be treated so well by a man. She's falling in love with him, and it's one of those shiny love stories that will either end with a happily ever after, or a Nikki Gogan-level heartbreak.
In the finale, of course, Dr. Matt and Chelsie had a snog upon first seeing other. What better way to prep someone to meet your best friends? And then again at the start of their single date, in a cart while on safari, and then by/in the pool. Four big ol' smooches for a big ol' love.
Chelsie won The Bachelor! Now she gets pashes with Dr. Matt for life!
---
Elly, 24
Tally: 4 pashes
Elly pashed Bachy heaps in episode three – first when she went down to Melbourne to play cowboy, and then again when he took her away for a chat during the cocktail party.
There's not really a steamy story here so much as they seemed to have a nice date and then wanted to conclude it with a bit of parallel tongue action. She makes him smile!
Reflecting on their covert cocktail party kiss later in the episode, Elly gushed: "I think our second little kiss was even better than the first one. Practice makes perfect and I'm happy to keep practising."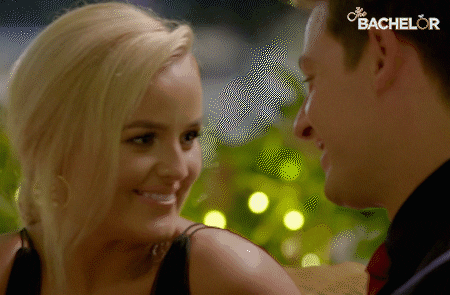 During their fire-twirling date in episode nine, literally mid-dance, Elly and Dr. Matt go in for another pash.
Without anything going catastrophically wrong, Elly, as the first woman to score a second single date, was always going to get that snog. Although we weren't to know it would be while the heat was being turned up, quite literally.
Then, after some post-date feelings chat and roasted marshmallows, they went in for another snog.
Elly was eliminated in episode 13 because she told Dr. Matt what she really thought about Abbie.
---
Emma, 32
Tally: 4 pashes
On episode seven, Emma, originally set up as the "stage 5 clinger" – and the first one to score a chat with Dr. Matt at the first-ever cocktail party – finally scored a single date.
As has been the pattern at almost all of this season's single dates, Dr. Matt smooched Emma. Literally the only person he hasn't pashed so far on a single date is Helena after the unfortunate pearl impregnation thing, because his brain was repeating "DOG C**T, DOG C**T" ad nauseam.
Emma and Matt's date was a sensory deprivation thing in an old house, where he fed her truffles, before giving her a very intense piece of "I love being in love" waveform woodwork, and a rose. Snogging ensued, because she felt special. It was all very sweet, albeit a little intense.
Emma and Dr. Matt go on a chocolate making date in episode 11. She's very handsy the whole time, and very early on, they start pashing to see if it raises their temperatures. It doesn't work.
Then of course, they go off to sit in the sun and eat the fruits of their labour, and pash a bunch more.
A pash with a view of the Sydney Harbour Bridge opens Emma's doggy hometown date. But that's it! She says she's fallen in love with him after their dinner with her friends and doesn't even get to touch tongues. What is this!
Emma was eliminated in episode 14 because she was way too into him – and he didn't think he could reciprocate her strong feelings by the end of the season.
---
Helena, 25
Tally: 3 pashes
To make up for being too spooked by the "dog c**t" revelations to kiss her after their single date in episode five, Dr. Matt took Helena aside during the cocktail party in episode eight and stuck his tongue down her throat.
There was some talking too. Dr. Matt reassured her that he absolutely has feelings for her, so it's kind of nice that he would take the time to so physically assuage her doubts.
It also gifted us with the image of Dr. Matt with what is effectively clown makeup all over his lips, for which we are forever ungrateful.
Helena was asked to plot out a timeline with Dr. Matt for their ten years together on episode 12, which is a lot to demand of a person, and it freaked her out. But during their fake moonlit bathtub session, she revealed that she's just never been hurt before, which makes her wary about going full ball into new relationships.
So she scored a good old-fashioned pash and then a rose, and then a pash again. It's The Bachelor! If you're not getting a kiss when you're alone together, you're going home.
Helena brought Dr. Matt on a tennis hometown date – and just drank Pimms instead. Somehow, after dumping the Bachelor because he didn't remember the specifics of their first meeting/she could tell he wasn't that into her, Helena still agreed to go back to the mansion, and they had a well-deserved pash. Then she broke up with him again! But still she turned up to the rose ceremony.
Helena was eliminated in episode 15 because she wouldn't profess her undying love to Dr. Matt.
---
Kristen, 25
Tally: 1 pash
Kristen's episode eight date – kayaking followed by a terribly confronting noughts and crosses day spa – inevitably led to a cheeky pash.
Covered in a coffee scrub, Dr. Matt sat in a Kmart plastic bucket full of water. As Kristen wiped the mess from his eyes, she went in for the snog.
I think it was meant to be sexy and romantic.
Kristen was eliminated in episode 12 probably because they'd spent the least time together.
---
Monique, 26
Tally: 1 pash
After a single date in episode four, Monique and Dr. Matt were so full of adrenaline and lovey hormones but they couldn't help but start necking after a brief conversation where they talked about life in the mines and complimented each other for being so gosh darn accomplished and attractive.
Returning to the mansion, Monique downplayed the moment: "I'm not one to kiss on a first date normally, so there was a small kiss, but that was it. It wasn't like a full-on pash or anything, but it was like a 'Thank you for my rose.'"
To that Sogand and Elly appeared to share a knowing look – we don't feel threatened! At all! Okay!
Monique was eliminated in episode six for her part in the "dog c**t" saga.
---
Sogand, 30

Tally: 1 pash
Sogand took out the coveted first hook-up of the season this year on the first single date with Dr. Matt in episode two, because she was so blown away by how romantic it is to sit politely and watch a string quartet.
She did not even try to hide her glee from her temporary flatmates when she got back, quietly but proudly informing them of their multiple rounds of snogging, and all kinds of important information about Dr. Matt's snogging style: "He has really soft lips."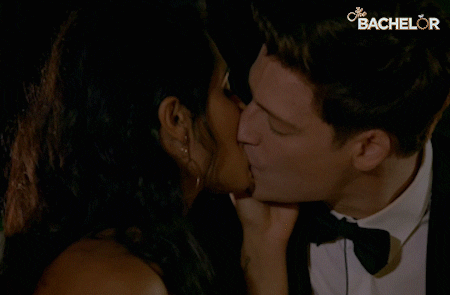 Sogand was eliminated in episode 11 because she didn't declare her undying love for Dr. Matt soon enough.
–
That's it so far. We'll be updating this Bachelor kiss counter as the show goes.